Pensacola area Communities and Zip Codes
Realty Masters professionally manages and leases properties in both Escambia County, Florida and Santa Rosa County, Florida.
If you are moving to the area and unsure of the local area, we hope this information on Pensacola area Zip Codes and communities will be helpful.
Escambia County Zip Codes & Areas
We are proud to present the following information on Escambia County, Florida including the cities of Pensacola, Perdido Key, Cantonment, Molino, and Pensacola Beach.

Downtown Pensacola- 32501 and 32502
The 32501 zip code includes the historic area of Downtown Pensacola including North Hill and some of East Hill. Housing includes mainly historic and older homes, and there are no large apartment communities. Also in this 32501 are the following landmarks:
Baptist Hospital
Pensacola Graffiti Bridge
Escambia County Jail
The main commercial area we know as Downtown Pensacola is encompassed in zip code 32502. There is little single family housing in the 32502 zip code, and housing in this area is for the most part expensive. Over the last decade, there has been a large influx in new construction in Downtown Pensacola. Many favorite Pensacola events take place in this area including the Palafox Market, Pensacola Mardis Gras Parades, Seafood Festival, 4th of July Fireworks, and the annual McGuire's Run. While a small area, this zip codes packs a lot of the shopping, entertainment, and waterfront activities including:
Port of Pensacola
Many area museums including Children's Museum, the Pensacola Museum of Art, and Veteran's Memorial Park
Historic venues such as Museum of Commerce, Seville Square, Historic Pensacola Village, and Old Christ Church
Entertainment such as the Pensacola Little Theatre and Saenger Theatre
Pensacola Blue Wahoos Baseball Stadium
East Pensacola- 32503 and 32504
The area of Pensacola located in zip code 32503 is commonly referred to as Southeast Pensacola. It includes the East Hill, Southeast Pensacola Heights and Cordova Park neighborhoods. It also includes a large portion of waterfront along Pensacola Bay and Bayou Texar. While this area includes some major commercial roads including part of Pensacola Blvd, North 9th Ave., and portions of Brent Lane and Airport Blvd, it is largely residential. 32503 also includes the following major attractions:
Parks including Bayview Park, Roger Scott Pool, and Bay Bluff Parks
Pensacola Christian College
A large portion of the car dealerships known locally as "Car City"
The area of Pensacola located in zip code 32504 is known as East Pensacola. It includes several commercial areas along Creighton Rd, North 9 Avenue, and Airport Blvd. The area features a lot of larger homes along Scenic Hwy and includes a fair amount of condo communities, apartment complexes, and other multi-family properties near the Langley Avenue and Creighton Road areas. 32504 is also home to many large employers including:
Pensacola International Airport
Pensacola State College
Shopping including Cordova Mall and University Town Plaza
Sacred Heart Hospital
Central Pensacola- 32505
The 32505 zip code represents Central Pensacola. It's landlocked for the most part although does encompass a small area along Bayou Chico, Bayou Grove and Marcus Lake. Major streets in the 32505 zip code include Pensacola Blvd (Hwy 29), Pace Blvd., Fairfield Drive, and Massachusetts Ave. The area has a fair representation of commercial, residential, and multi-family properties. It is also home to entertainment such as Fast Eddies Fun Center and Sam's Fun City.
West Pensacola- 32506
West Pensacola stretches to the Florida/ Alabama border and neighbors Perdido Bay and Tarklin Bayou. There are a lot of waterfront homes, and it includes a lot of wetland, nature, and parks in this area. It includes the portions of the major roads of Hwy 98 West, Lillian Hwy, Blue Angel Pkwy, Jackson Street, and Bauer Road. This area also borders Corry Station, Pensacola VA Clinic, and the Naval Exchange. The Pensacola 32506 zip code is also home to:
Tarklin Bayou State Park and Preserve
Pensacola Greyhound Track
Blue Angel Recreation Park & Southwest Escambia Sports Complex
Southwest Pensacola & Perdido Key- 32507
The 32507 zip code represents Southwest Pensacola and Perdido Key! It stretches to the Alabama/ Florida state border, and it includes a large amount of protected lands and waterfront property including Bayou Grande, Bayou Chico, Perdido Bay, Big Lagoon, and the Gulf of Mexico! The Perdido Key area is home to the majority of condo communities in the Pensacola area along with Pensacola Beach. The 32507 zip code also borders Naval Air Station Pensacola and includes the communities around both the front gate and the back gate of NAS! Main roads in this area include Gulf Beach Hwy, Sorrento Road, Innerarity Point Road, and Perdido Key Drive. In addition, the 32507 zip code is home to:
Front and back gate of Naval Air Station
Numerous parks such as Big Lagoon State Park, Perdido Kids Park, and Bayou Tarklin Wetlands
Beach parks including Johnson's Beach which is part of the Gulf Islands National Seashore and Perdido Key State Park
Northeast Pensacola- 32514
Northeast Pensacola is a smaller geographic area but includes a good mix of commercial, residential, and multi-family properties, as well as waterfront properties along the Escambia River and Escambia Bay. Main roads include 9 Mile Road, Olive Road, North Davis Hwy, and Scenic Hwy. The 32514 zip code is also home to:
The University of West Florida & West Florida Hospital
Large employers in and near Ellyson Industrial Park including ECUA, General Electric, and Wayne Dalton
Scenic Hills Country Club
Northwest Pensacola- 32526 & 32534
The 32526 zip code includes the communities of Beulah and Bellview in Northwest Pensacola. The area stretches west to the Florida/ Alabama state line and north to I-10. It includes the main highways of Mobile Hwy and West Nine Mile Rd. This area continues to show drastic growth from the development of the Navy Federal Credit Union Headquarters. Because of this demand, new construction homes, apartments and schools are abundant. 32526 Zip Code is also home to:
Pensacola Interstate Fairgrounds & Five Flags Speedway
Navy Federal Credit Union Headquarters
The Florida Welcome Center
The 32534 zip code is located south of Cantonment and East of Beulah. It is a relatively small zip code which includes the Ensley area and encompasses a large portion of 9 Mile Rd. and Hwy 29 from Interstate 10 to Kingsfield Rd.
Cantonment & Molino- 32533 & 32577
The 32533 zip code is known as Cantonment and stretches from the Alabama/ Florida border east and north to the Molino area. The Cantonment area offers availability of larger acreage and zoning for horses that you do not find the more urban areas in Pensacola. It is also home to the following:
International Paper
Perdido River Wildlife Management Area
Molino is north of Cantonment and is included in the Pensacola metropolitan area. This is a relatively large landmass with a smaller population of approximately 1,500 residents. Residents enjoy a quieter way of life here and travel into town for necessities.
Pensacola Beach- 32561
Pensacola Beach is a favorite destination for locals and tourists alike. It has a small commercial market including hotels, and it is mostly made up of residential housing as well as townhomes, condo communities and an RV park. From recreation to dining, there's so much to enjoy at Pensacola Beach.
Santa Rosa County Zip Codes & Areas
We are proud to present the following information on Santa Rosa County, Florida for the communities of Pace, Milton, Gulf Breeze, and Navarre, Florida.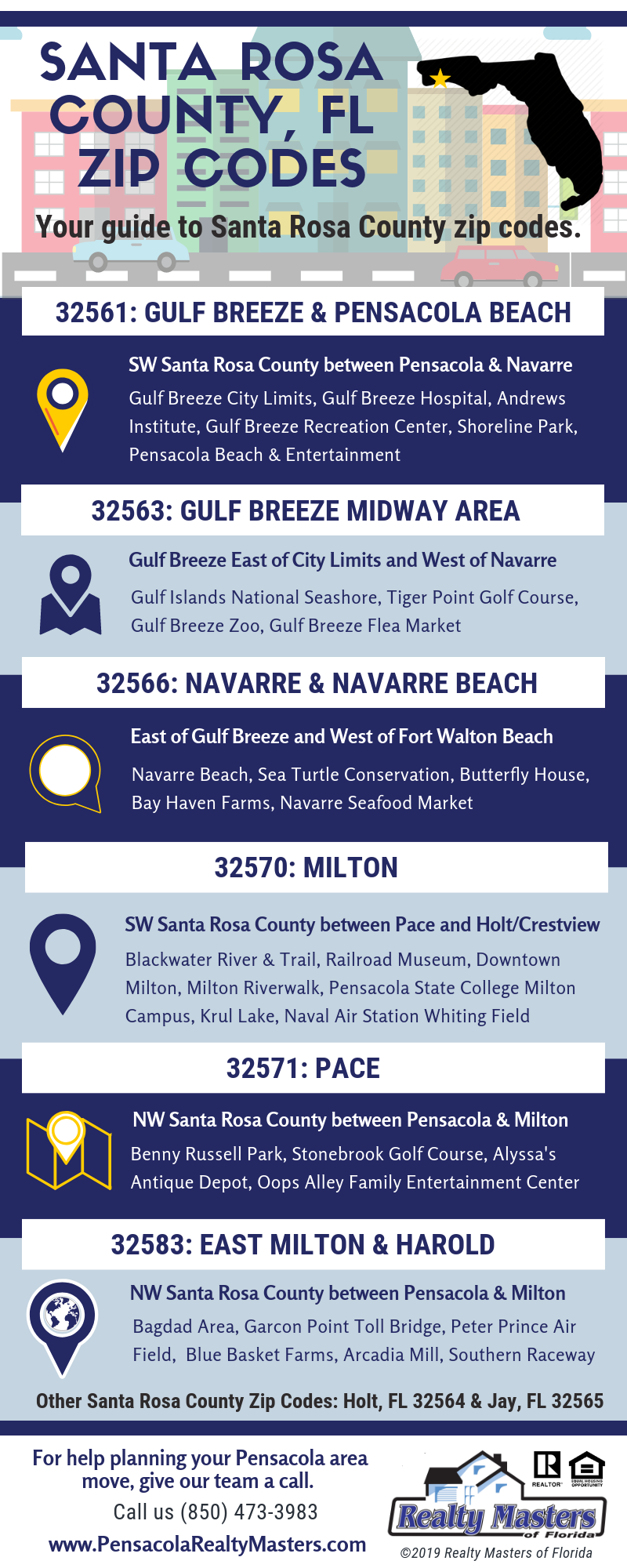 Gulf Breeze Proper & Pensacola Beach- 32561
The 32561 zip code, belongs to both Escambia County for Pensacola Beach and Santa Rosa County for Gulf Breeze. Gulf Breeze is located between Pensacola and Navarre along Us Hwy 98 East. The area located in this zip code is known as Gulf Breeze Proper, and is represented by the City Limits of Gulf Breeze.
Home prices in Gulf Breeze, Florida 32561 are among the highest in the area. Gulf Breeze Schools are highly sought after. As Gulf Breeze is a peninsula with water surrounding three sides by Pensacola Bay, East Bay, and Santa Rosa Sound, there is a surplus of residential waterfront real estate. Also in the 32561 Gulf Breeze zip code are the following landmarks:
Gulf Breeze Hospital & Andrews Institute
Gulf Breeze Recreation Center & Shoreline Park
Gateway to Pensacola Beach
Gulf Breeze and Midway- 32563
The 32563 zip code encompasses the Naval Live Oaks Area of the Gulf Islands National Seashore and the area west of Navarre. Hwy 98 or Gulf Breeze Pkwy runs through the middle of Gulf Breeze with water both north and south of this major road. While rents and home sale prices are more expensive here in comparison Pensacola, it is relatively more affordable than the neighboring 32561 zip code. Popular subsections and communities include Tiger Point and Midway. Located in the 32563 Gulf Breeze zip code are the following attractions:
Gulf Islands National Seashore Naval Live Oaks Area
Gulf Breeze Zoo
Oriole Beach Public Boat Launch
Garcon Point Bridge which connects Gulf Breeze to norther Santa Rosa County's city of Milton
Navarre & Navarre Beach- 32566
East of Gulf Breeze and west of Fort Walton Beach is a waterfront city named Navarre and its beach, Navarre Beach. Navarre has grown immensely over the last twenty years. Due to the proximity to Hurlburt Field Air Force Base, this area maintains a large population of active duty and retired military service members. Current estimates for the population of Navarre, Florida total approximately 40,000, making it one of the larger communities in the Florida Panhandle. Navarre is home to plenty of commercial, residential, and multi-family real estate including several larger apartment complexes and retail spaces. With Santa Rosa Sound, East Bay, and Navarre Beach, many residents enjoy the waterfront lifestyle. subsections and communities in Navarre include Holley Navarre and Woodlawn Beach as well as neighboring Navarre Beach.
The Navarre, Florida 32566 zip code is also home to:
Waterfront Navarre Park
Navarre Beach Sea Turtle Conservation Center & Navarre Beach Marine Science Station
The Club at Hidden Creek Golf Course
Milton- 32570
Milton, Florida is located in Santa Rosa County, north of Gulf Breeze across the Bay, east of of Pace, and west of Holt and Crestview. This large landmass is home to about 30,000 residents. The main roads in Milton's 32570 zip include Interstate I-10, Hwy 90 through Milton, and Hwy 87. Milton is home to an increasing amount of new construction residential and commercial properties and has experienced tremendous growth along with Pace, Florida in the past decade. Naval Air Station Whiting Field trains helicopter pilots for the military and draws a lot of active duty and retired military. Milton is also home to several local farm and agricultural lands. Yearly, locals visit one of the local farms for pumpkin patches, corn mazes, and Christmas trees in Milton. This part of Milton is rich in nature, history and geographically abundant. The City of Milton is one of the oldest cities in the state of Florida as the Blackwater River was used as a major source of transportation for the lumber trade in the 1800s. Today, it is largely recreational as Blackwater River runs through and there are plenty of opportunities for hiking, nature trails, camping, tubing, kayaking. It's also home to Coldwater Gardens where you can enjoy glamping at Coldwater Creek and fishing at Krul Lake. Popular subareas in 32570 Milton include Berryhill, Point Baker, Munson, and Allentown areas. The Milton, FL 32570 zip code is also home to:
Naval Air Station Whiting Field
Pensacola State College Milton Campus & Locklin Technical College
Blackwater River State Park & Krul Lake State Recreation Area
Downtown Milton & Milton Riverwalk
Blackwater Heritage Trail State Park
Coldwater Gardens, Sweet Seasons Farms, and Holland Farms
Pace- 32571
Pace is a small city located in northwestern Santa Rosa County, between Pensacola and Milton along Hwy 90. Pace features a relatively small landmass with Hwy 90 running through the center. Pace has experienced large population growth over the last ten years with an explosion in both residential and commercial new construction. Pace, which once had one stoplight, is home to several major retailers, restaurants, shopping centers, entertainment and more. It is known for strong school districts and is currently discussing building new schools to meet population growth. The increase in demand for this area has caused both rents and sales prices to increase over time making it more in line with the prices of Santa Rosa County's Navarre and Gulf Breeze communities. While now largely residential and commercial, Pace is also home to several nice parks and even a nudist park. Popular subareas in Pace include the Pea Ridge, Floridatown, Five Points, and Spencerfield. The Pace, FL 32571 zip code is also home to:
Benny Russell Park & Santa Rosa Sports Plex
Stonebrook Golf Club & Oops Alley Entertainment Center
Spencer Naval Outlying Field
East Milton and Harold- 32583
East Milton is home to fewer residents. A large portion of 32583 is the Yellow River Wildlife Management area and, because of this, there are more wetlands and less residential housing. Interstate I-10 runs through here and does include exit 25 for access as well as the toll bridge, Garcon Point Bridge, which connects upper and lower Santa Rosa County from Milton to Gulf Breeze. The 32583 zip code is home to relatively little commercial, multi-family, condos, and townhomes. It is home to some single-family homes, including waterfront and new construction homes. Popular subareas in Milton 32583 include Avalon, Mulat, East Milton, Bagdad, and Harold. The Milton, Florida 32583 zip code is also home to:
Garcon Point Toll Bridge
Peter Prince Air Field
Blackwater Bay & Yellow River Wildlife Management Area
Blackwater River Correctional Facility
Other Community Resources
Looking for more information on the Pensacola area? Here are our best resources!