Pensacola Rentals Application Criteria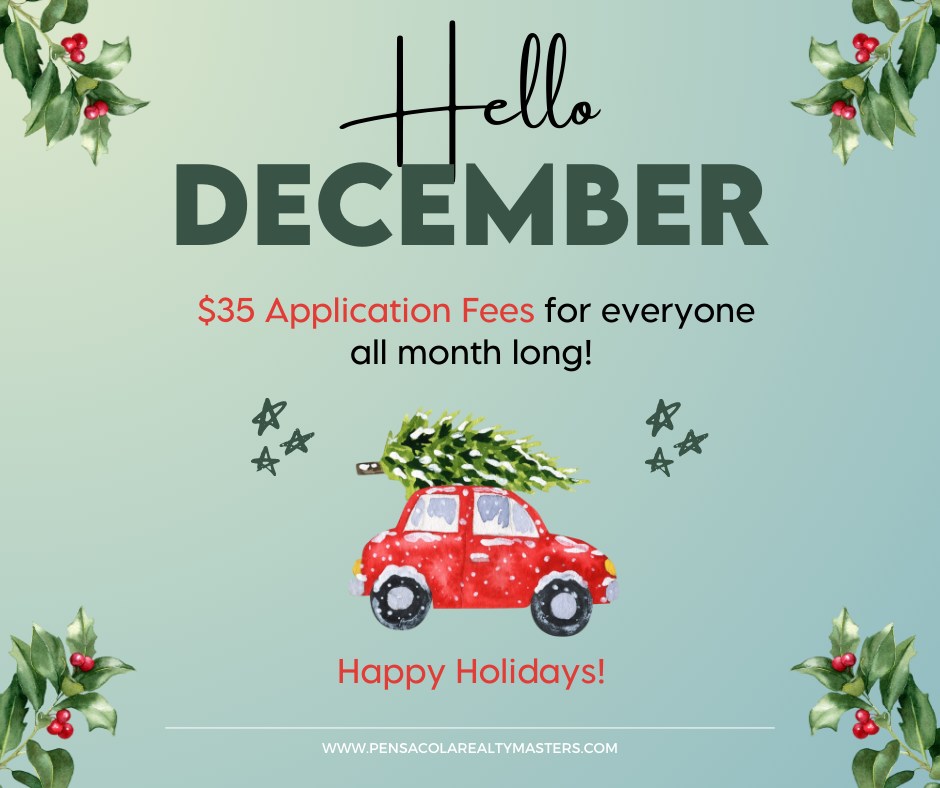 Home for the Holidays! $35 application fees through December 31st
Thank you for your interest in our Pensacola Rental Homes and apartments. Realty Masters is the leader in Leasing in Pensacola.
How to Apply for a Realty Masters Property:
The information below will guide you through the application process to lease one of our Pensacola area rental homes. Please review our application procedures below.
Apply online.
Go to Apply for a Rental at the top of our page! Each adult over the age of 18 will need to apply and complete the application process to be considered.
Apply in our office.
Fill out the Rental Application and bring it to one of our offices along with:
Copy of Government Issued Photo ID
A $50 application fee per adult ($35 active duty military & spouse)
Documented sources of any and all income to be used in consideration for approval
Photos of any animals that will be residing in the property and assistance animal documentation if required. View our assistance animal policy here.
Please Review our Full Application Criteria
The following policies have been established to ensure that all prospective applicants for a property are processed by Realty Masters and will be treated equally and fairly. Realty Masters is an Equal Opportunity Housing provider and does not discriminate on the basis of race or color, age, religion, sex, national origin, familial status, or disability.
APPLICANTS AND APPLICATION FEE
Complete applications will be processed in the order received. If you feel you meet the guidelines for qualifying, we encourage you to submit an application.
Each person 18 years of age or older, that will reside in the property, must complete an application.
There is a $50.00 non-refundable application fee per applicant and a $35.00 non-refundable application fee per applicant for active duty military and spouse. Application fees are accepted in person with cash or money order. No personal checks. Credit or debit card payments are accepted online only. If an application is not processed, we can administer a refund, but a $10.00 credit card processing fee, per applicant, will be held from the application fee refund total.
Realty Masters reserves the right to ask for additional documentation regarding income, landlord history, and any other documents or information submitted that appear to have discrepancies, false or misleading information. Failure to provide further verification or documentation will result in application denial.
Incomplete applications, as well as applications with false information, will not be considered or processed. Your application will not be considered complete without the following items from each applicant:
Signed application for each adult over the age of 18
Valid state issued photo ID or passport
Acceptable, verifiable proof of income
$50 non-refundable application fee for each applicant
Photos of any animals residing in the property and proper documentation for assistance animals, if required
CRITERIA FOR APPROVAL
The following criteria has been established for approval. All applicants must meet these criteria. Where there are co-applicants, the owner may deny all applicants based on one or more co-applicants' failure to pass criteria.
Credit score of 600 or higher is required. A credit inquiry will be made through Transunion. Credit history must not contain judgments, history of late payments, or collections within the past year. Liens and bankruptcy within the last 2 years and eviction filings and foreclosures within the last 3 years. These will be grounds for disqualification.
A minimum of one (1) year residential history is required. Rental references from relatives or friends may not be considered. Previous rental history reports from landlords must reflect timely payments, sufficient notice of intent to vacate, no complaints regarding noise or illegal activities, no unpaid NSF checks, no damage to the unit caused by either the tenant(s) or animal(s), and no outstanding monies owed to the landlord. Unsatisfactory reported information is grounds for disqualification.
Applicants' combined gross monthly income must be three (3) times the amount of the monthly rent. Applicants must provide one month of their most recent pay stubs. Self-employed applicants must provide their most recent personal tax return and three (3) months of personal bank statements. All income must be verifiable and documented in order to be considered. Student loan and GI Bill income is not considered. Special income like overtime pay, bonuses, retirement benefits, bonus income, tips, child support, spousal support, and other types of income will require additional documentation and may or may not be considered. If you have received a raise that has not yet taken effect, if you are relocating to the area for a new job, or if you are transferring with your current employer to the area, please provide the official signed acceptance letter. This letter must include your start date and your income details, and it must be on company letterhead and signed by the employer. In addition to this letter, you will need to provide your most recent one month of pay stubs from your current job. This information will be taken into consideration and is subject to owner approval. If you are a remote employee, you must submit a signed letter on company letterhead stating you are remote along with a full month of your most recent pay stubs.
A background check will be completed on each applicant.
PETS AND ASSISTANCE ANIMALS
Pets are accepted on a case by case basis with owners' approval and a $250 non-refundable pet fee per pet. It is the sole discretion of the owner to approve or deny for any reason a pet request by the tenant. The owner may request additional pet fees or pet rent at their discretion. In order for your pet(s) to be considered, you must complete the pet section on the application and supply current photos.
Due to insurance regulations, animals we cannot accept include, but are not limited to: Doberman Pinschers, German Shepherds, Pit Bulls, Chows, Rottweilers, Siberian Huskies, Alaskan Malamutes, American Bull Terrier, American Staffordshire or Bull Terriers, English Bull Terriers, Korean Jindos, Presa Canarias, Hybrid or Purebred Wolves, or Coyotes and Wild Dogs or any other aggressive breed or mix of an aggressive breed. These policies do not apply to assistance animals.
Assistance animals are welcome with proper documentation which may include a letter from a medical professional or reliable third party. See our Assistance Animal Policy for more information regarding assistance animals.
APPROVAL:
Once approved, applicants must immediately sign the lease. The holding fee must be paid with certified funds within 24 hours. Realty Masters does not take the property off the market until a holding fee is paid.
HOLDING FEES AND SECURITY DEPOSIT: Holding Fees are required to be paid within twenty-four hours after a completed application has been approved. Failure to pay this will result in your application being denied. Once paid, the holding fee is NONREFUNDABLE. If Applicant has deposited a HOLDING FEE, the dwelling will be taken off the rental market. This holding fee is not a security deposit. However, it will be credited toward the required security deposit when the Lease Agreement is signed by all parties. If applicant is approved, but fails to enter into the lease within 3 days of verbal and/or written approval being communicated to applicant, the application will be denied and the application process closed with the holding fee being forfeited as stated above. If the tenant fails to take possession after the lease is signed and the lease term begins, applicant understands and agrees that the security deposit is automatically forfeited to the Landlord or Management.
CONDITIONS OF MOVE IN
If the property is still occupied when the lease is signed, the lease must start no later than 14 days after tenants vacate. If a property is vacant when the lease is signed, the lease must start no later than 10 days from the date of approval.
All move in funds are to be paid in certified funds payable to Realty Masters. Holding fees, $50 Administrative Fee, first (1st) full month's rent, and any applicable pet fees are to be paid in cashier's check or money order only. NO CASH, PERSONAL CHECKS, and DEBIT OR CREDIT CARDS. Prorated rent, if applicable, is due the first day of the following month. Tenants moving in on the 25th or later require payment of prorated rent, as well as the full first month's rent, at the time of move in.
Proof of all utilities being transferred as of the date of possession is also required before keys are provided.
Applicant has read the lease and all addendums and agrees to its terms upon completing application. A copy of the Realty Masters lease can be found on our website.
CURRENT REALTY MASTERS RESIDENTS
If you currently lease a home through Realty Masters, we will gladly waive your application fee. However, a new application with all requested documentation must be submitted and processed. Tenants must meet all criteria set forth to qualify. A new administrative fee, holding fee and new pet fees, if applicable, must be paid at the time of lease signing.
CONDITIONAL APPROVALS AND EXCEPTIONS TO POLICIES
Any exceptions to our policy will need to be submitted in writing for presentation to the owner for consideration. If approval is then given for such exceptions, additional holding fees, co-signers, and/or additional advance rental payments may be required.
The acceptance of a co-signer is not normal policy and is subject to approval or denial by the owner on a case by case basis. If a co-signer is allowed by the owner, the cosigner must apply. As most owners are only accepting fully qualified applicants at this time, it is not likely the owner would approve the application, even with a cosigner.
From time to time, we encounter individuals that are not a fit for our standards of professional conduct. In these cases, we invite them to consider another property management company or landlord to serve their housing needs. We exercise the discretion and right to refund your application fee and holding fee and wish you well in your shopping for a new residence should this situation occur.
VIEWING PROPERTY BEFORE RENTING AND RENTING SIGHT UNSEEN
We strongly encourage everyone to view the property prior to submitting an application. If the applicant is not in the area to view, we can work closely with a friend, co-worker, or sponsor to view the home for you. If you choose to lease a house sight unseen, you will be required to sign a sight unseen addendum. If you are out of the area, we strongly suggest you have a representative view the home in your absence and complete neighborhood research prior to applying or entering into a lease. Any application fees, holding fees, rent, and/or pet fees are nonrefundable should you decide you do not want to move forward.