<![CDATA[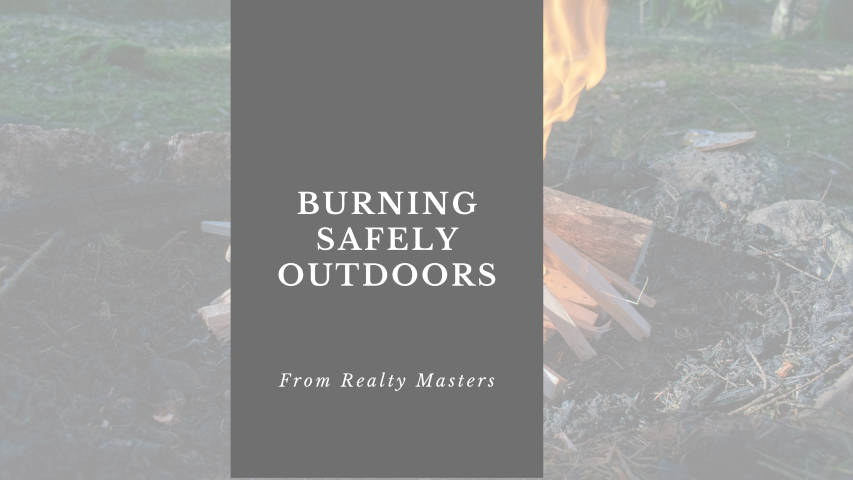 One of the leading causes of wildfires in the state of Florida is from debris burning. Because of the high number of wildfires that are a result of careless burning practices, there are a number of government agencies that regulate outdoor burning.  The Florida Forest Service is the top government agency tasked with creating and enforcing burning regulations. They regulate the statutes in place; however, local government agencies can place additional restrictions on burning. If you live in the city limits of an area, you may be subject to additional ordinances that regulate burning.
Personal Experience with Fires
Our team has experienced the results of irresponsible burning with several instances over the years. Here are a few examples of first hand experiences our team members have seen as a result of irresponsible practices.
-A fire pit that was not properly extinguished. The ashes from the fire pit were put in a trash can. The trash can caught on fire and caught the house on fire. The house had to be torn down and all the tenant's items were ruined from smoke and fire damage.
-A burn barrel fire that caught the grass underneath it on fire. The fire spread to several acres and threatened homes nearby.
-Several kitchen fires that resulted from leaving the kitchen while cooking something on the stove top.
It is imperative that you practice fire safety, have working smoke detectors, and have a personal fire extinguisher and water hose available.
Considering Burning Outdoors?
The law does allow for burning of dry outdoor vegetative debris such as leaves, tree limbs and shrubs; however, it does place several restrictions on this which could make burning even these items in your yard a violation of the regulations.
Outdoor Burning Regulations
-It is illegal to burn household garbage including paper products, treated lumber, rubber materials, tires, pesticides, paint and aerosol containers.
-Dry (not green) vegetative debris such as grass clippings, pine straw, leaves, tree limbs and shrub trimmings can be legally burned between 8 a.m. and one hour before sunset if it is in a pile not larger than 8 ft. in diameter and located:
-25 feet from any forested area (grasslands, brush or wildlands).
-25 feet from your home or other combustible structure.
-50 feet from any paved or public roadway.
-150 feet from any occupied dwelling other than your own home.
-A burn pile greater than 8 feet in diameter requires an authorization from the Florida Forest Service and additional requirements.
When you consider these distance requirements, it is very likely that your property is not large enough to accommodate a burn pile. We do not recommend you utilize a burn pile for yard trimmings. You can place these items by the road for your trash company to compost or dispose of properly.
The Florida Forest Service warns you that if your fire escapes, you may be held liable for the cost of suppressing the fire and for any damage to the property of others!
Safety with a small Fire Pit
If you are looking for a small fire to roast a marshmallow or cuddle in front of on a cool night, we would recommend the use of a small fire pit with a cover if your property allows for one. Be sure to practice fire safety by adhering to all regulations discussed and by practicing the following:
Be sure you have a fire extinguisher nearby before you operate a fire pit.

Be sure to saturate the fire with water after it is out.

Use the protective screen.

Never leave a fire unattended.

Do not place a fire pit on a balcony, too close to a property, or under any covered area.

Do not underestimate the amount of time it takes for the wood or coals to extinguish properly.
Live in a Condo, Townhome, or Apartment?
Condos, townhomes and apartments often have regulations built in regarding restrictions for safety. The Florida Fire Prevention Code regulates this with the following:  With respect to cooking equipment, section 10 of the code prohibits using hibachis, grills, and other similar devices for cooking, heating, and any other purpose on a balcony, under any overhang portion, or within 10 feet of any structure, other than in one and two-family dwellings. The section does allow for some smaller electric grills, however, most associations do not permit any type of grill or fire pit on the premises for safety.
Check with your condo association's rules and regulations or the local fire marshall for more information or clarification on your community's rules.
Renting & Your Lease Agreement with Realty Masters
Remember that your lease agreement contains an addendum as to the use of fireplaces, stove, fire pits, and candles. Please refer to this addendum to be sure of your responsibilities under the lease agreement. It requires, among other things, that you have a water hose or a fire extinguisher when utilizing any item with an open flame.
Additionally, if you damage any part of the yard or home from a fire, you can be held responsible for any damage to the home or property.
For more information on burning in Escambia County, visit Escambia County's website and for more fire safety tips and regulations, visit the Florida Forest Service.
Please make sure you are abiding by all regulations and practicing fire safety. Now is also a good time to check your property for smoke and carbon monoxide detectors. We want you to have fun this holiday season, but we also want you and your family to remain safe while doing so. 
originally posted 10-25-2018