<![CDATA[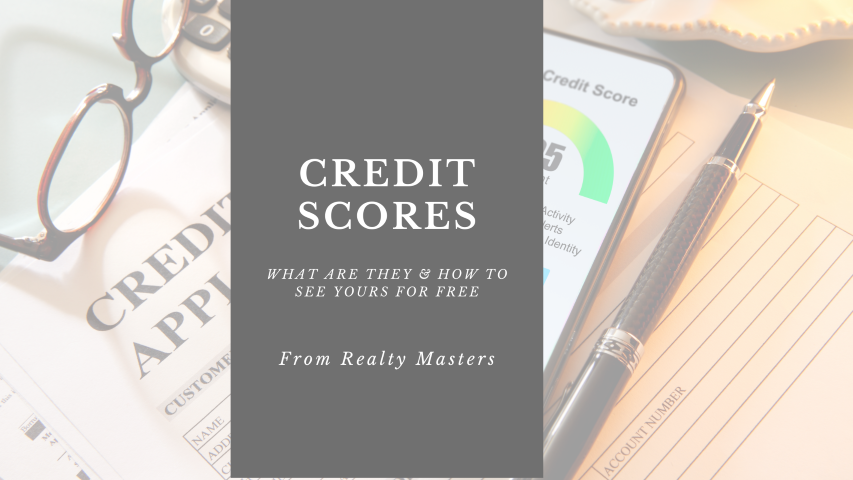 Credit Scores have vital information that lenders and other companies use to help decide the credit worthiness of consumers. Having good credit helps one make the large, important purchases in life like getting an auto loan or home mortgage. To most people, it is a mystery on how credit companies calculate your score and what information they are using. 
Realty Masters, like other property management companies, have some minimum criteria that renters have to qualify for to be approved - one of the big ones is your credit score. 
The First Step is knowing where to look:
There are many websites and services available to consumers to evaluate or monitor their credit score. The first step is finding out your score. One of the most widely used credit scores are FICO® Scores. Some great information is provided on FICO® Scores at http://www.myfico.com/credit-education/credit-scores/. Also, here is a little more information on credit scores directly from the FTC (Federal Trade Commission) that is valuable: https://www.consumer.ftc.gov/articles/0152-credit-scores.
The Second Step is knowing your score and monitoring it:
There are several companies and services that give you access to your credit score. There are websites, apps, and banking services that help consumers monitor their credit. Some of those cost money as an one-time fee or monthly subscription. 
You are eligible to get a free credit report every 12 months as authorized by the FTC.
There is a website where you can get access to all three of your major credit reporting companies – Equifax, Experian and TransUnion - https://www.annualcreditreport.com/index.action. It is important to know as the more times your credit is pulled, that also affects your score. The credit agencies vary slightly on how they score your credit and even each credit reporting company (like ours being Resolve) can come back with a slightly different score based on the criteria and which credit bureau they use. I know, it's so confusing!
I understand it's frustrating getting approved for a rental property without a rental history and a credit score, however, those are the only criteria we have to give to the owner as Fair Housing doesn't allow us to tell the owners anything about our potential renters.
Tips on Improving your Credit Score:

Paying your bills on time

The % of available credit to the credit limit

How long you have had credit
Realty Masters is excited that we are now partnered with - Renttrack - Our new payment system allows for online payments at a discounted rate from Payclix and also allows you the opportunity to build your credit by reporting your rental payments to the credit agencies!