Located in Summerdale, Alabama, just north of Foley, Alligator Alley is a must visit animal attraction only a 45 minute drive from Pensacola located at 19950 Highway 71, Summerdale, AL 36580. If you're looking for something new to do with your family this weekend, during spring break or summer, we highly recommend a trip to Alligator Alley.
This highly rated alligator farm features over 600 alligators of all ages. Yes, you'll even see baby alligators! You'll also find several enclosures with alligator youth of all ages so you can see how big they grow over time. Of course, these enclosures are fenced so it's completely safe. As a plus, the alligators seem well fed, docile, and happy. You can even hold, pet, and get your photo taken with a young alligator included in your admission.
One of the coolest attractions at Alligator Alley is the live feeding shows, currently being held at 11 am, 1 pm, and 4 pm. I believe this is seasonal, so check their website or Facebook before planning your visit. You'll see an Alligator Alley employee jump behind the fencing with dozens of mature alligators to feed them raw meat by hand. Along with the feeding, they provide educational information on the alligators that make their home at Alligator Alley and on alligators in general.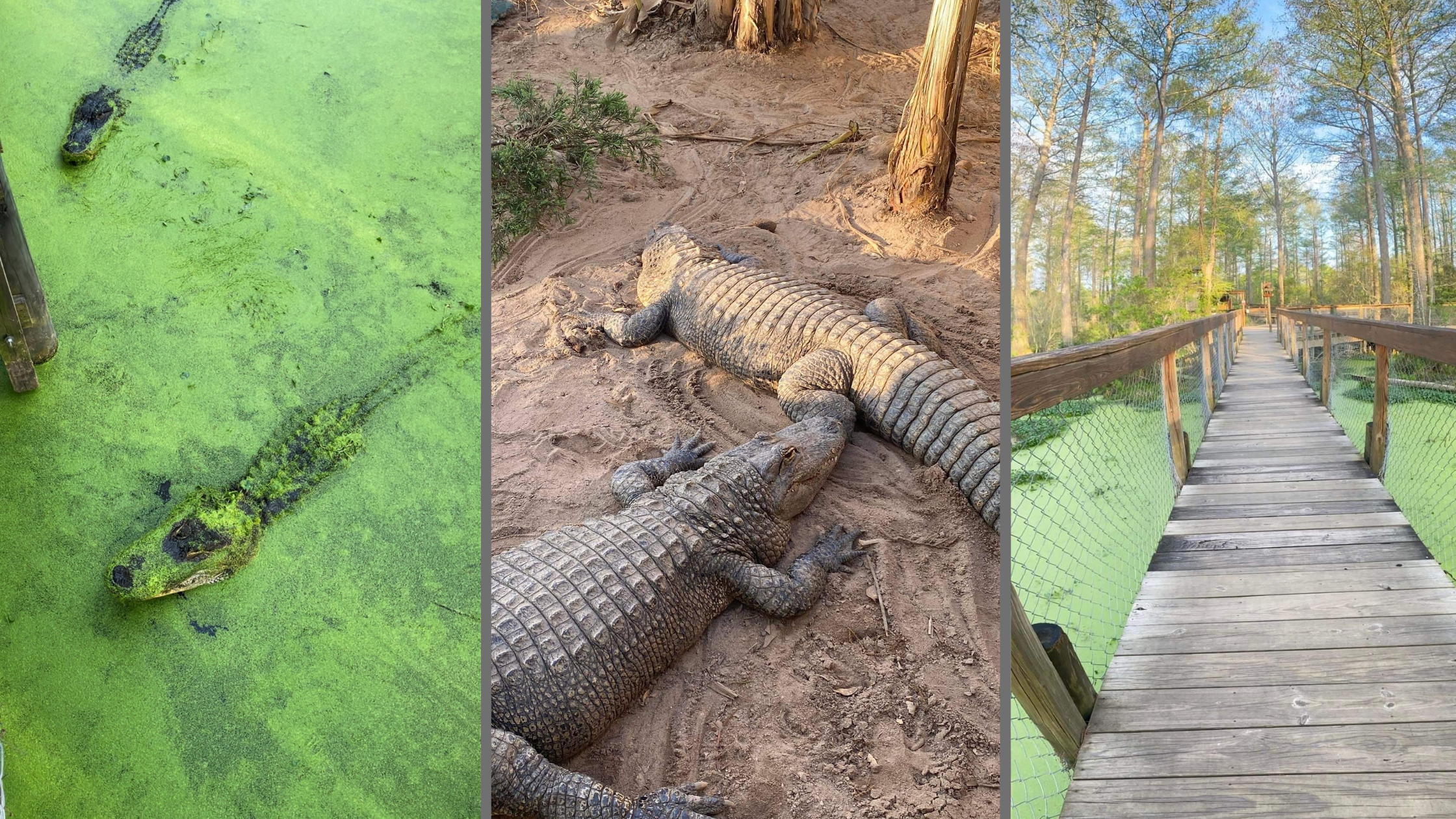 After the feeding show, make your way to "The Swamp" where you'll find an abundance of boardwalks above the marsh that is packed full of alligators. This is by far the coolest part of your visit to Alligator Alley. Make sure you buy a cup of alligator food for $6 and save it for The Swamp! The alligators seem to be hungrier and more active in The Swamp than in the enclosures where they must get fed by visitors more often.
Alligator Alley opened in 2004 and has become a sanctuary for local alligators that are considered a nuisance and need to rehomed. Alligator Alley is more of an alligator sanctuary than an alligator farm. Especially in The Swamp, it feels like you're in the marshlands of the Everglades. While there are only a few other reptile animal exhibits, there are plenty of other animals that make their home at Alligator Alley including birds, turtles and more.
Plan your visit:
Alligator Alley is open daily from 10am to 5pm, although check for seasonal hours as they may close completely or close early in December and January. Admission is $17 for adults, $15 for children ages 3-12, and no charge for toddlers. There is a senior discount and a season pass available.
Alligator Alley is also available for birthday parties, field trips, and other large events, as it can accommodate up to 150 people.
While this isn't an all day excursion, you should plan to spend about 2 hours at Alligator Alley so you have time to see everything it has to offer.
There isn't a restaurant at Alligator Alley, although there is a cute gift shop that also serves beverages, so bring a picnic and enjoy your lunch at a shaded picnic area.
For more information, visit their website https://gatoralleyfarm.com/