<![CDATA[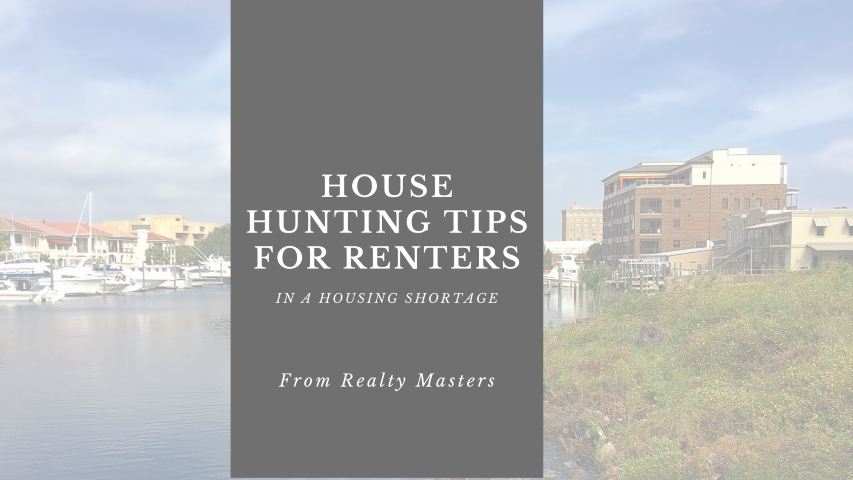 If you are house hunting this spring or summer in the Pensacola area, you will find that the active rental inventory is tight! We're seeing record lows in the single family rental market in the Pensacola area.
There are simply not enough properties for rent at this time to meet the current demand of renters looking to move. To help you ease the stress and frustration of house hunting this season, we've put together a video with helpful house hunting tips. 
Here are some of the highlights from the video:
Do your research. It's up to you to do the research on the neighborhoods and areas. Do a neighborhood search (Escambia County Crime Map: http://www.escambiaso.com/crime-map/ ) 
Be prepared! Review the requirements for renting and have all of your documents necessary ready to apply. Have a double security deposit ready if you do not meet the rental criteria. 
Consider purchasing a home.
Check into the multi-family apartment complex community for availability.
Have vet records, photos, and extra pet deposits for your pets.
Don't just apply to apply! This lowers your credit score and is costly. Be intentional and serious before you apply. 
If you are relocating, do not expect to be able to pull a U-haul into town and move in a property the same weekend. If you have someone who can view properties on your behalf, have them coordinate viewings and sign a lease. 
Be available for showings! You may have to take some time off work in order to be successful in house hunting this season.
Have a back up plan in case you don't find a property!
Adjust your expectations for the criteria you need, not the criteria you want. It is not the time to find a dream house!
Housing affordability is an issue and will continue to be as the economy and real estate market improves. Rents will continue to increase. Plan for this! 
Be happy where you are. Do not be upset by a small rental increase or an unresolved maintenance item that is not important. 
Show up at real estate offices! The call and email volume is overwhelming for us now. Make time to pop by the office and talk with someone in person for best results.
Act fast when you find a nice property. Be ready to pay a deposit and sign a lease when you apply.
​Reach out to our office and let us know how we can be of assistance whether you are looking to buy or rent a home in 2018. 
Realty Masters of Florida Rental Office (850) 473-3983 http://www.PensacolaRealtyMasters.com 
originally posted 03-27-2018