<![CDATA[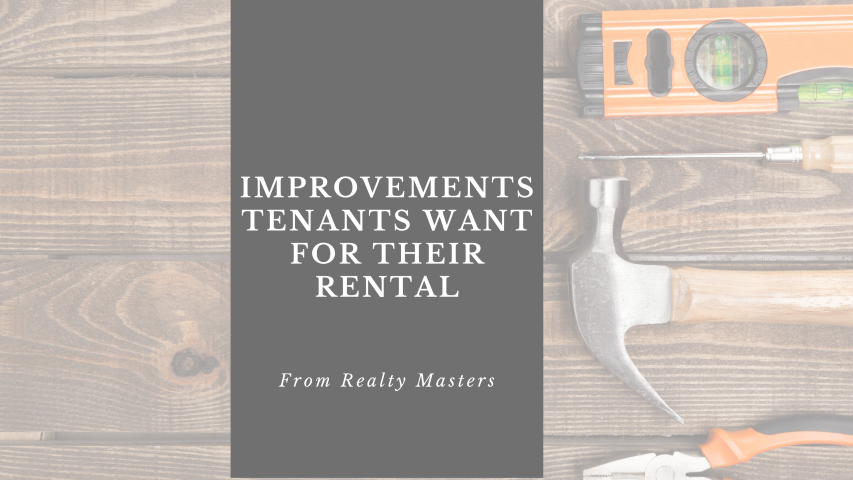 Landlords: your tenants want updates.
When asked the question "What one improvement would you wish for your rental?" upon vacating, our tenants had a lot to say.  
Here's a list of the most common answers we received this year in order of frequency:
Needs upgrades and updating
Update appliances most commonly mentioned is the fridge
New flooring (carpet or vinyl is old)
Provide lawn care
New light fixtures; fans in all rooms
Windows and screens are old
Fenced yard or repairs to old fence
New counter tops
Needs new a/c unit
No gutters on home 
Updated bathroom
Wallpaper ripped out everywhere  
New exterior doors 
We know the old saying is "if it ain't broke, don't fix it", but your tenants disagree. They want new fixtures and updated energy efficiency. Tenants expect their landlord to continually make upgrades and provide routine maintenance. Landlords should build up a reserve to make these upgrades. 

As your property ages, it's a good idea to invest in routinely replacing components in your home. To keep your home in good condition, you should be completing maintenance frequently on your properties. Making these and other improvements will yield higher rents, less vacancy, and an overall better experience for you as a landlord. 
Reach out to us with any questions about becoming a Pensacola area landlord. We specialize in working with investors and landlords in the Pensacola real estate market. As we manage over 1,000 rental properties, our real estate agents understand rental market trends. 
We are currently accepting new properties in good condition in Pensacola, Pace, Milton, Gulf Breeze, Pensacola Beach, Perdido Key, and Navarre. 
originally posted 01-01-2018