<![CDATA[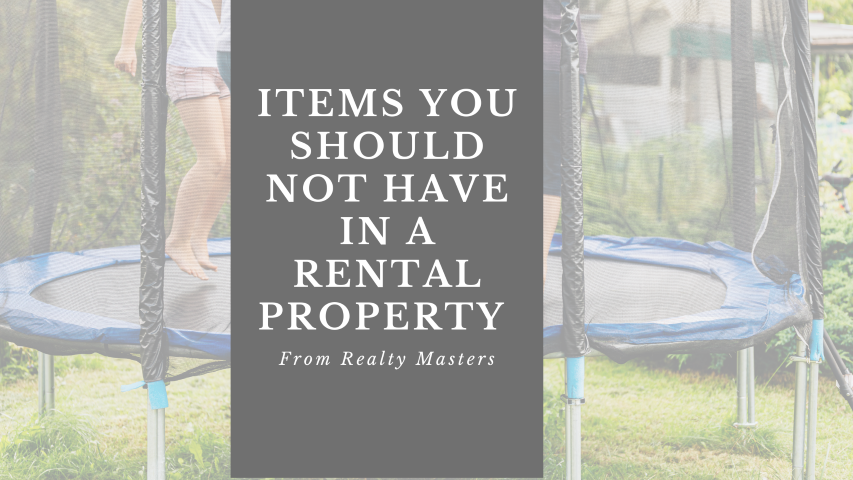 Some items an owner SHOULD AVOID having in their rental property!
As property management professionals, we have a lot of experience in mitigating risk. Because of this, there are several items we would never recommend having in a rental property. Here's a list of our top five:
Trampolines: We understand, you don't want to remove these items from the property as you have enjoyed using them.  While it sounds like a nice amenitiy for your rental property, it would be best case scenario to haul these items away from a rental property.  These items are big liability issues and safety concerns. Additionally, your insurance policy may not allow them at the property. If your insurance policy excludes trampolines, as many do, you will be held liable without protection should someone get hurt.
Playsets and Patio Furniture Sets: The estimated life span of exterior items such as patio furniture and playsets are low. Over time, these items will decay and become a safety liability for your residents. If a tenant or guest is hurt because these items, you can be held liable. 
Above Ground Pools, Expensive Pool Filtration System and Hot tubs:  Unless you are including pool maintenance with the rental amount then I highly recommend not having this installed. Tenants are expected to maintain the home as if it is their own and treat the home with care, but this isn't always the case. If this system breaks, requires upkeep, or preventive maintenance – you may not be able to rely on the tenant to take care of it. We are recommending that our owners have pool maintenance included, if their property has a pool, for this reason. This will save a lot of headaches and sleepless nights.  Trust us!
Salt Water Treatment System: This is amazing to have in newer homes to increase the longevity of the pipes or in old areas where hard water is a problem. If you have routine maintenance to take care of the system, it is a great asset for the home. Unfortunately, along the same thinking with pools, sometimes tenants do not take the needed care of systems while in your property. If there is an issue with the system or upkeep needed – you are on the hook. 
 
Security Systems or Alarm Systems: Added security is usually always a plus; it is attractive to renters for peace of mind and also can be helpful for any emergency services. The major drawback we have with alarm systems is the service setup with them. Most of the time, the service is disconnected and the hardware is still at the house. This can lead to confusion that it is active or not. Some tenants setup service and are able to use the system in place, but other times if tenants wanted a security system the companies install new hardware. Overall, it becomes an unnecessary hassle that is not maintained​​
originally posted 11-24-2017