North Pensacola, including the Beulah area, has experienced significant growth in the past decade. As Nine Mile Road in North Pensacola continues to widen and the Navy Federal Credit Union campus expands in Beulah, the surrounding areas infrastructure and population have grown significantly. This growth has created a serious need for more housing to support the new population and business. Thankfully, new construction subdivisions and apartment communities have been going up along Nine Mile to accommodate this. The newly built Admiral's Quarters subdivision is one of these developments. Developed from 2020-2022, Admiral's Quarters subdivision sits in a great spot just east of Pine Forest Road, which makes an easy commute to the commercial areas around Nine Mile, as well as the rest of Pensacola via the interstate. This subdivision is comprised of approximately 210 townhomes with no single-family homes in the community.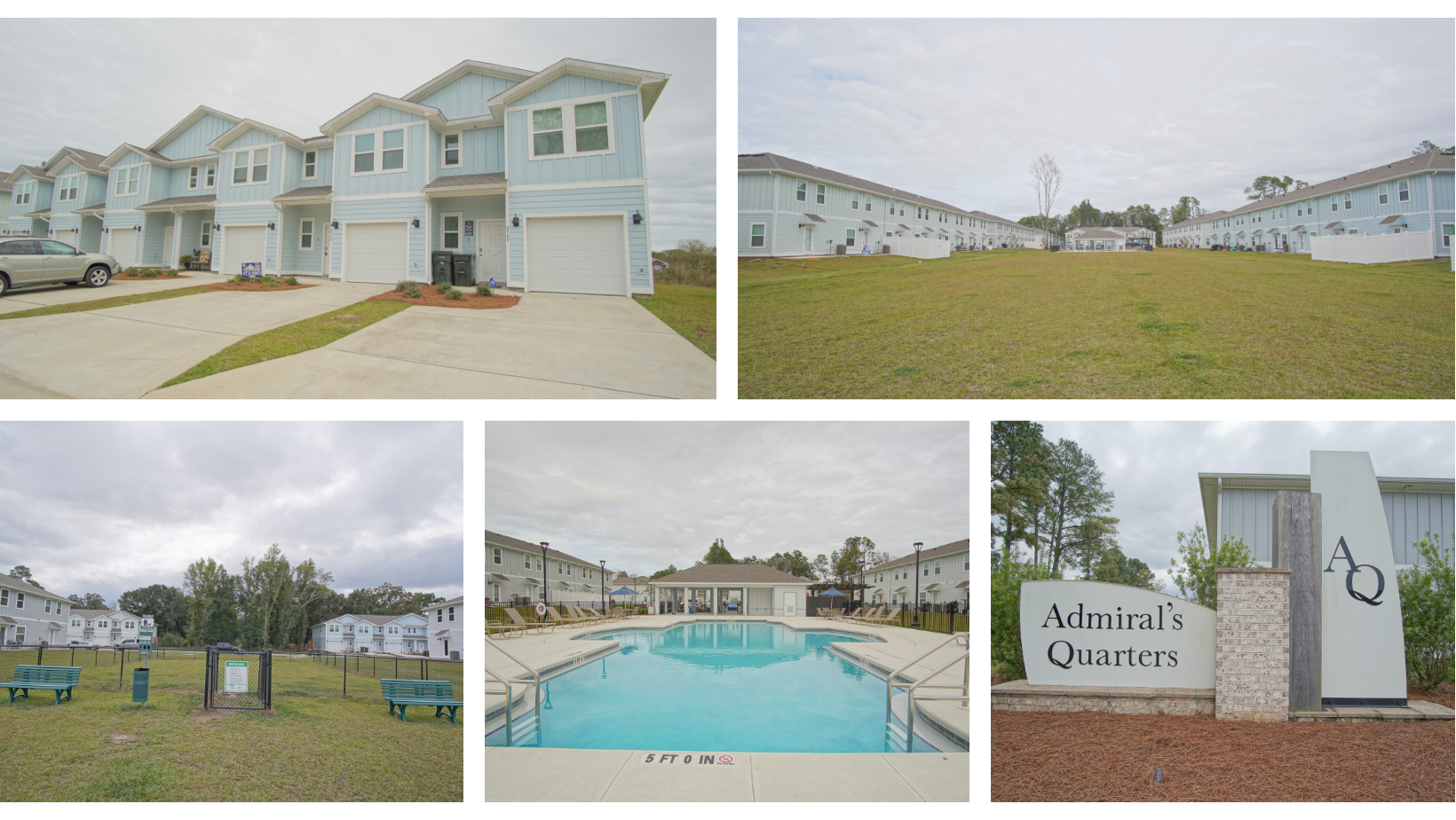 This complex makes for a great community of homes that require minimum upkeep, but it also has several awesome amenities not found in many other traditional subdivisions. For starters, they have a private pool area with a large, covered area, that is perfect for entertaining. The pool area features two private bathrooms, plenty of chairs and tables for sitting or tanning, and even an external shower to clean off after swimming. Just beyond the pool you have another great resource of the community, a fenced in pet walking area. This is the perfect way to give your animals plenty of room to exercise that many traditional townhouses lack, with typically smaller yards. This subdivision is also very spread out and offers many open spaces and large grassy areas that many other complexes tend to lack as well. This gives the complex a very open feel and it doesn't fall victim to being stuffy, like many others do.
There are several ways to enjoy Admiral's Quarters, as unit owners offer their townhomes for lease for both short-term rentals and long-term rentals. However, if you want a more permanent stay, then there are also multiple options for buying in the complex as well. These townhomes are two story, each with 3 bedrooms, 2 and a ½ bathrooms and a single car garage. Long-term rental rates from 2022 ranged from $1,700 to $2,400 monthly. Those townhomes that sold during 2022 averaged around $280,000, with many of the properties selling as brand new construction.
Take a quick neighborhood tour here:
The Northwest Pensacola area is growing daily and with all the new restaurants and businesses flocking to the location, there has never been a better time to find out what this area has to offer. This location offers quick proximity to Cantonment and Beulah and is also a quick drive to the rest of the Pensacola using the Interstate exit a few streets away. Are you looking for a newly constructed home in Northwest Pensacola? Call or text Realty Masters at 850-473-3983 today to find out more Pensacola homes for sale or rent about this community, or to take a tour of one of these townhouses today!