Looking for an exciting short-term rental in Pensacola while you're house hunting or here for a vacation? With over 2.5 million visitors in the last year, Pensacola is a must visit vacation destination in Florida! With our beautiful white sand beaches, rich history, and Southern Hospitality, Pensacola is among the top tourist destinations in the Florida Panhandle. With thousands of vacation rentals to choose from in the Pensacola area, we thought it would be helpful to find and share a few of our favorite and most unique options. After all, no Florida vacation is complete without the option to spend your vacation on a boat. Here are our top choices for most fun, most unique, and all around coolest Pensacola Vacation Rentals.
Most Fun Pensacola Vacation Rentals
Splash RV Resort & Waterpark- Located in the Milton area, this RV Resort comes equipped with an on sight, private waterpark which includes a lazy river, several water slides, heated pools, and a hot tub. They also have pickleball, basketball, golf cart rentals, a dog park, a lodge, and an arcade. While you can bring your RV or big rig and hook up to a camp site, they also have cottages and wagons for rent. The waterpark is only available to residents of the resort so it makes a great place to book a staycation for locals, too.
Serenity by the Sea Beach House- This 6 bed 4 bath Pensacola Beach home wins the most fun Pensacola vacation rental! Obviously, this property is waterfront on Pensacola Beach which provides unlimited opportunities for fun on its own, especially with all the outdoor amenities they have. Outside, you'll find a deck with a hot tub and a 100-foot dock, along with a ton of water toys including a water trampoline, tubes, kayaks, paddleboards, and more. Inside, you'll find an indoor spiral slide and mini rock climbing wall in a guest bedroom as well as basketball goal, and more in the garage play area. We're certain that despite your age, you'll have a ton of fun and create great memories in this beach home. Visit the owner's website to chat and book directly.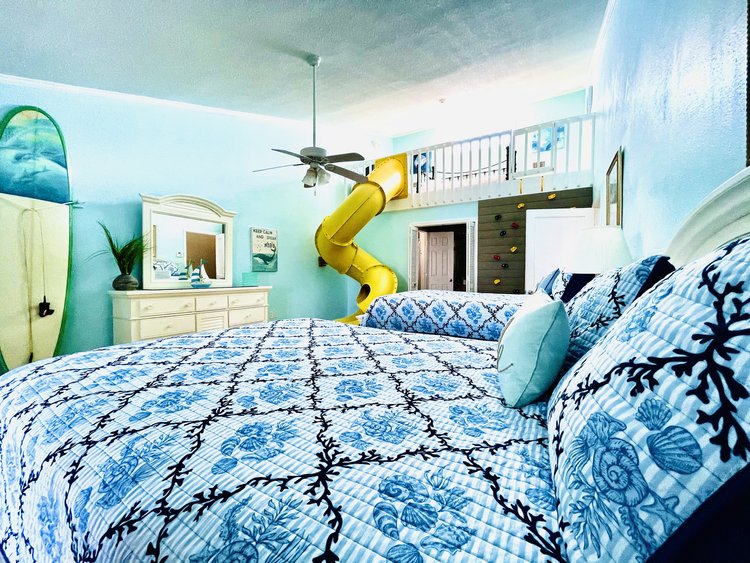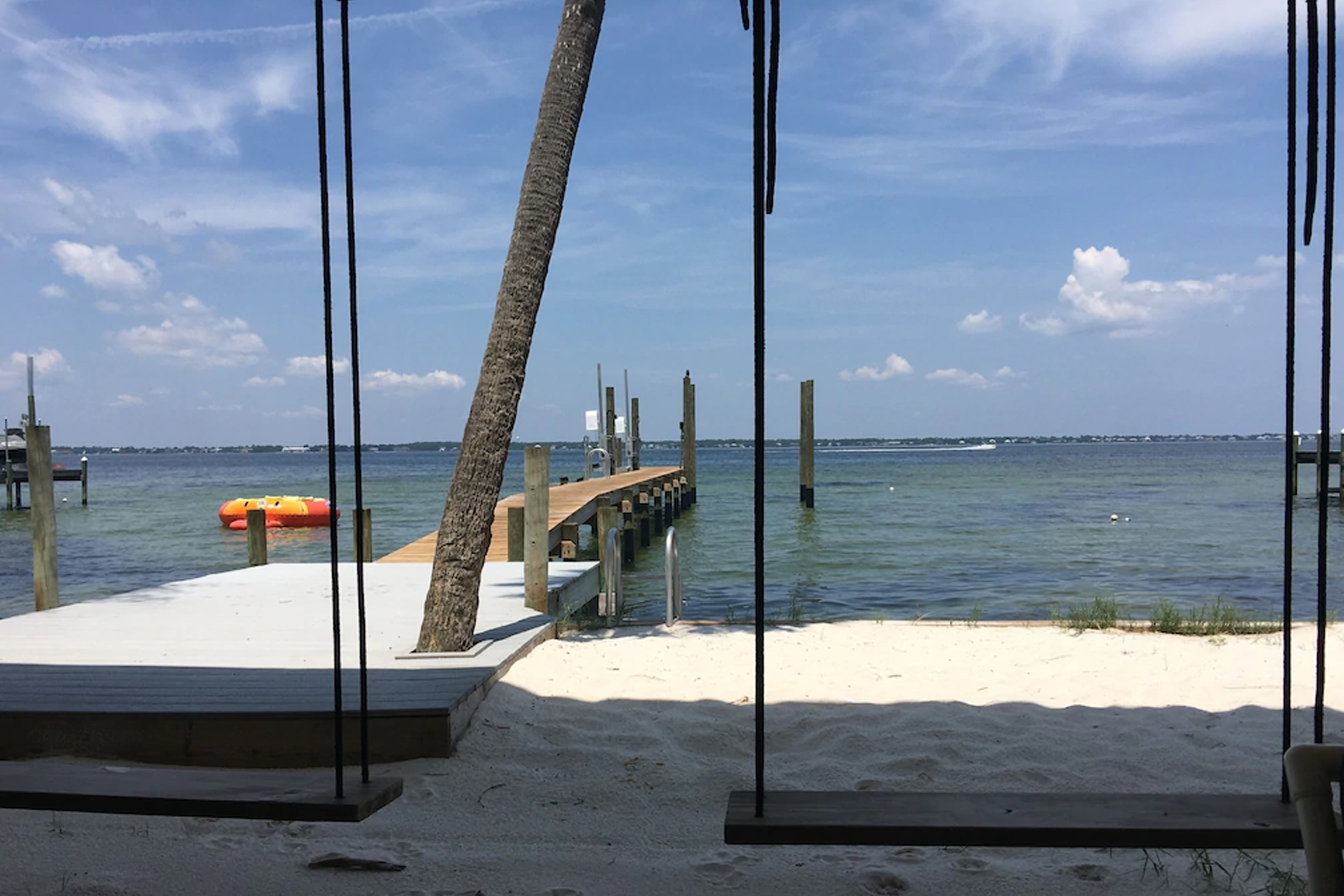 NavArcade- This newly built Navarre, Florida home wins our pick for most affordable family fun! They turned the garage into a PacMan game room, equipped with a multi-use game table, an indoor basketball game, two arcade style games, and a family gaming area with games. Modern and tastefully decorated, this home is only a few minutes from restaurants and shopping as well as Navarre Beach. It's pet friendly and sleeps 14. The host was the friendliest we spoke with for this article, and you can tell they care about your vacation experience. Check out her listing or email her directly to save on your stay.
High Life- This Pensacola Beach home wins our vote for the coolest pool. This modern, contemporary home is gorgeous inside and out, with waterviews from nearly every area of the home. You'll find plenty of entertaining space including a huge rooftop deck and a custom built, inground pool on the 3rd floor pool deck. With 4 beds and 4 baths, this home sleeps 20 and is a short walk to the Gulf of Mexico.
Most Unique Pensacola area Vacation Rental
The Spaceship House- We also ranked this among the coolest and most fun as this Spaceship House on Navarre Beach is truly a one-of-a-kind home. This 2 bedroom 2 bathroom home is located across from the beach and sleeps 10. The interior is as cool as the exterior and is on theme. Space fans of all ages will adore a vacation in this unique spaceship home.
Loft in Historic Waterworks Building- This is a truly unique property in Downtown Pensacola. Built in 1907, this property was once home to a water company. It has since been renovated and converted into businesses and loft apartments. Featured on HGTV's Rezoned, it still has unique features that make this property one-of-a-kind. It's nearly 3,000 square feet with 3 bedrooms and sleeps 6. As with most of our picks, this property is not for everyone as the walls in the bedrooms do not connect to the ceiling to fully enclose each room. With a sophisticated and modern design, we are swooning over this space and think it is one of the trendiest, most unique rentals in Downtown Pensacola.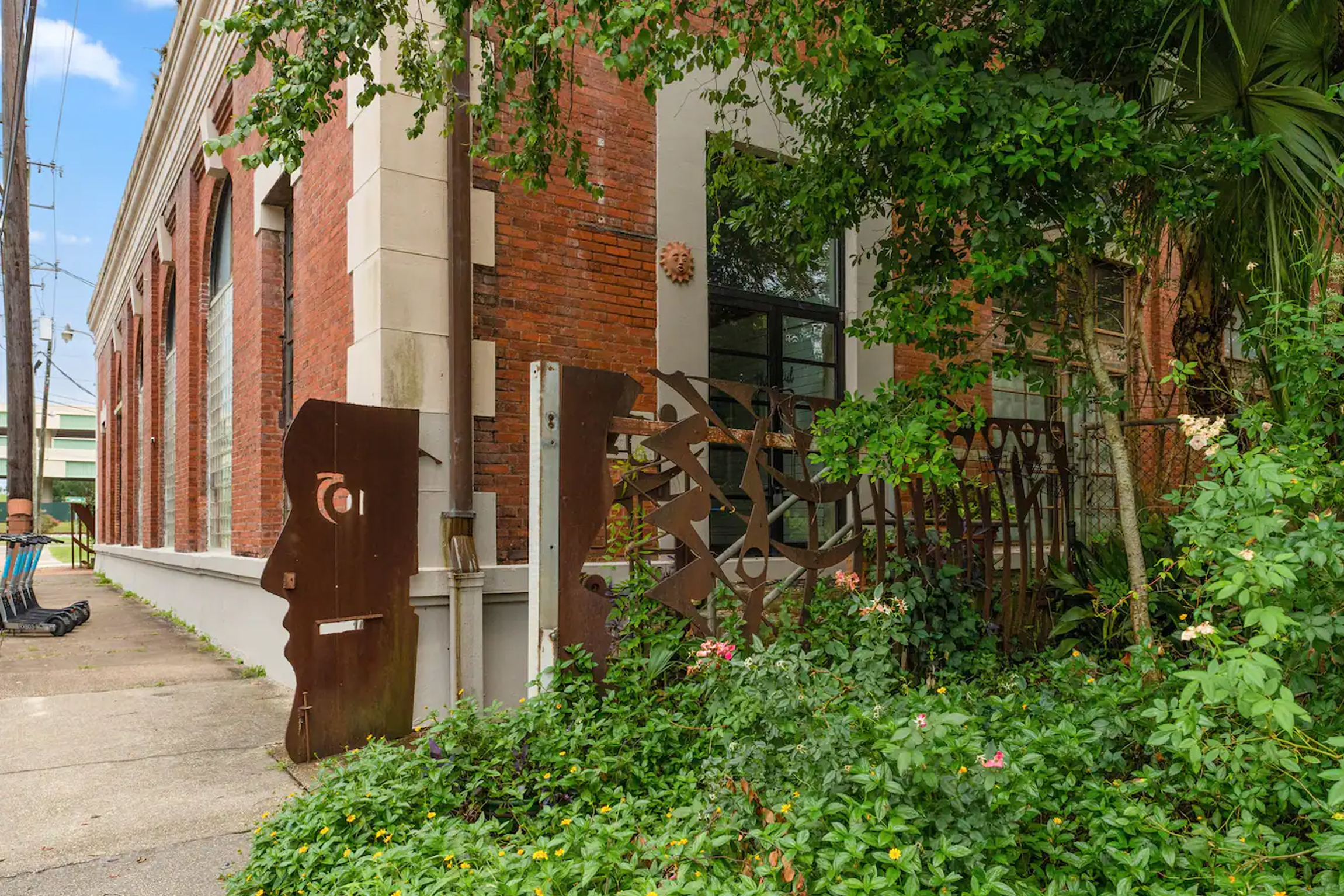 Biggest Pensacola Vacation Rentals
Bella Villa Estate- Located in Southwest Pensacola overlooking the intracoastal waterway and Johnsons Beach, you'll find Bella Villa Estate in Southwest Pensacola, FL 32507 near Perdido Key Beach. This 1 acre waterfront estate boasts over 8,500 square feet and is made up of two spacious homes plus a loft suite which sleeps 30-35. This estate is a great place to host your Pensacola wedding, retreat, or family reunion.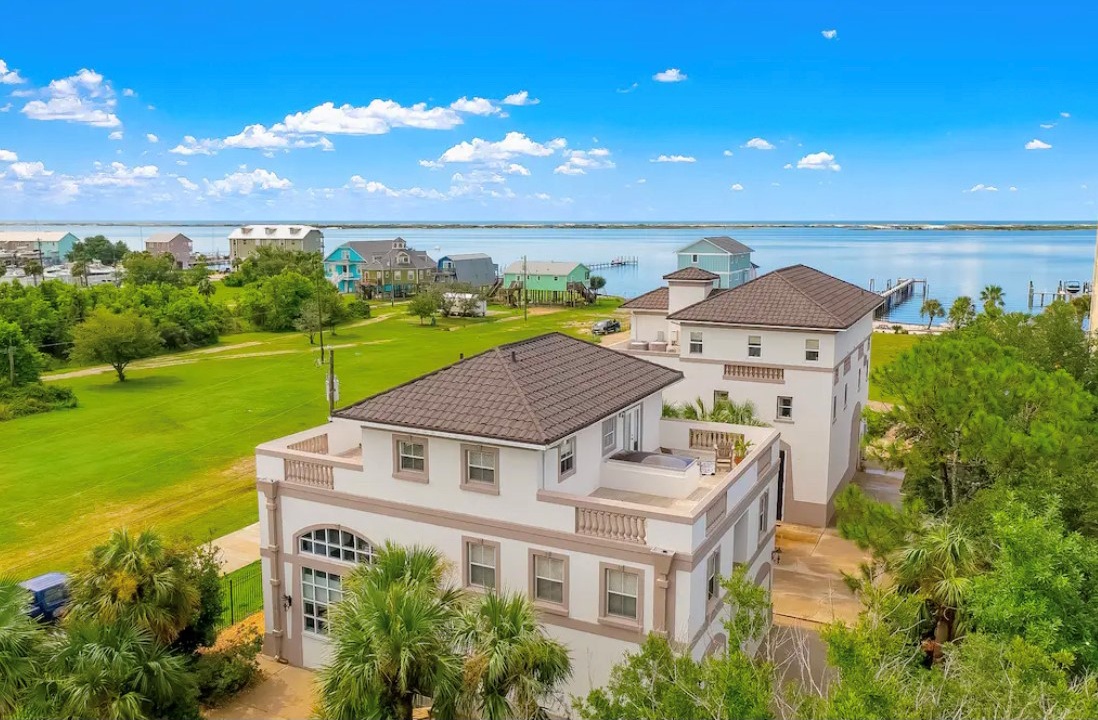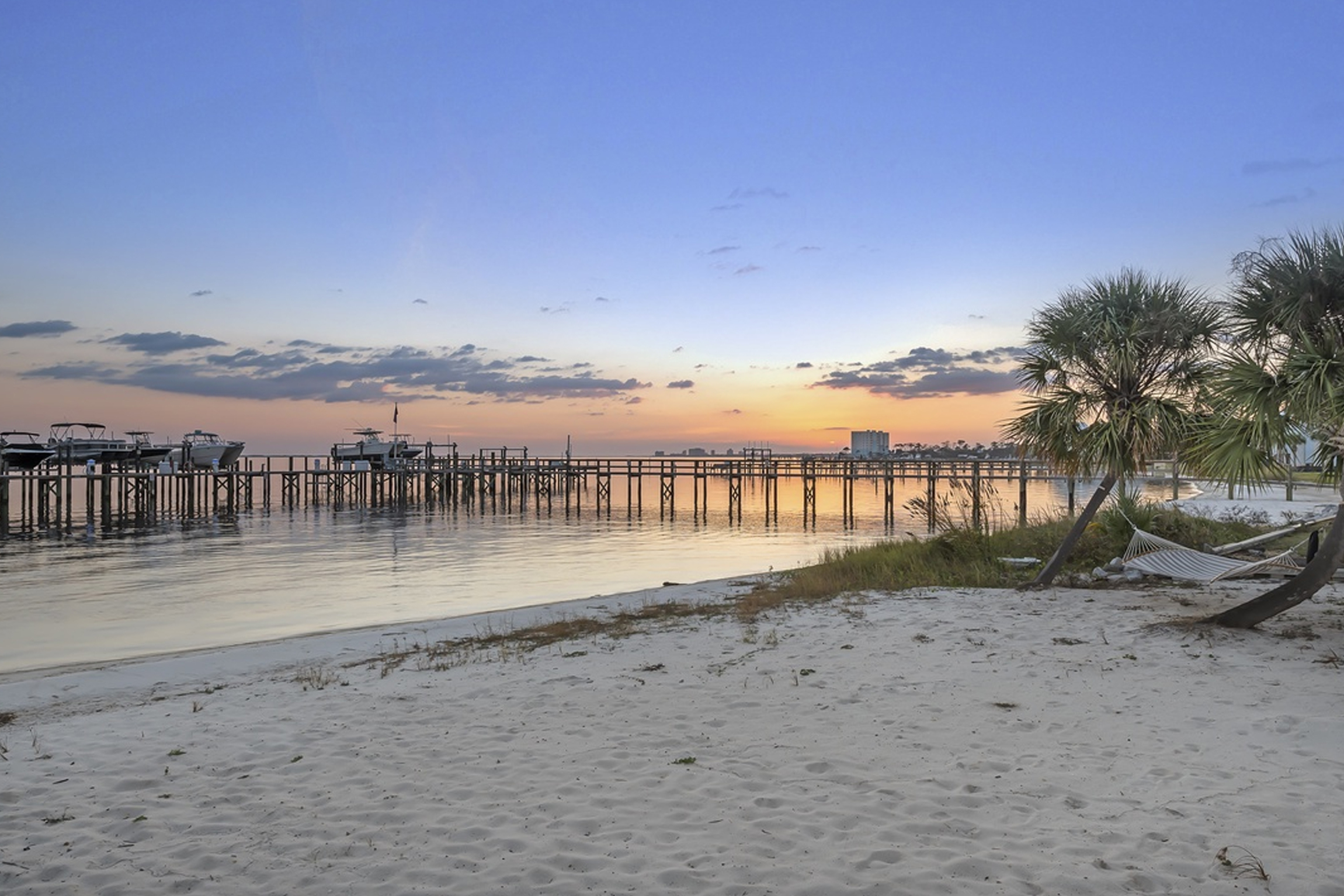 SeaLation- If you're looking to book a large home on Pensacola Beach, check out this nearly 6,000 square foot newly built home on Pensacola Beach with a huge pool. This 8 bedroom home was built in 2018 and accommodates 30 guests. The decor is gorgeous and well designed to comfortably house large groups.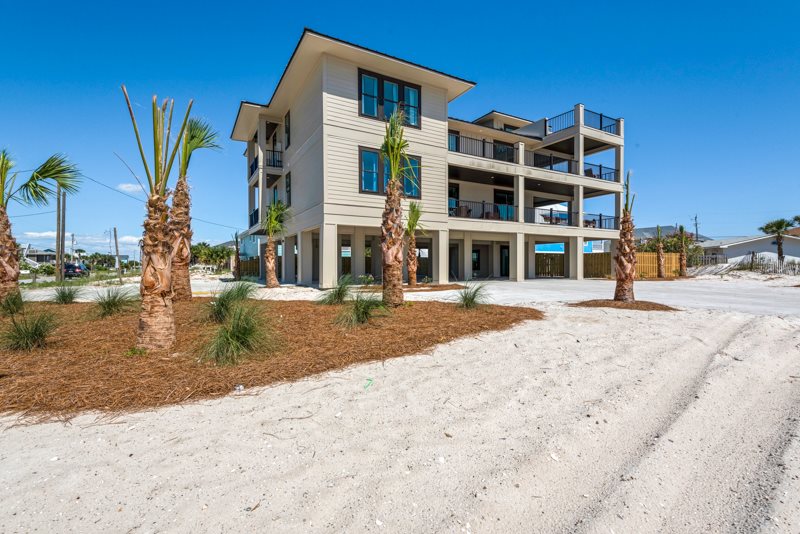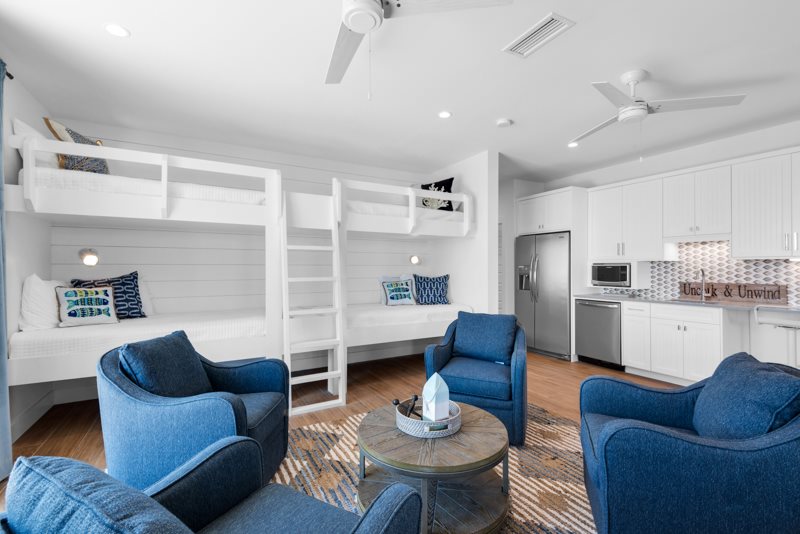 Pensacola Houseboat and Sailboat Vacation Rentals
Houseboats of Seville Harbour- Choose one of three luxurious houseboats in Downtown Pensacola, docked at Seville Harbour behind the Fish House Restaurant. Located in the heart of Downtown Pensacola, these floating homes truly offer a unique lodging experience you will not find in other Pensacola vacation rentals. The Houseboats sleep 4-6, are newly built and tastefully decorated, and will surely help you to create some unique Pensacola vacation memories.
Gulf Star- This 50 foot sailboat is docked at Southwind Marina in Southwest Pensacola. With 3 bedrooms and 1 and a half baths, this luxury sailboat sleeps 5. Sleep among nature and nightlife. How fun is this! I think everyone should sleep on a sailboat just to say you did it.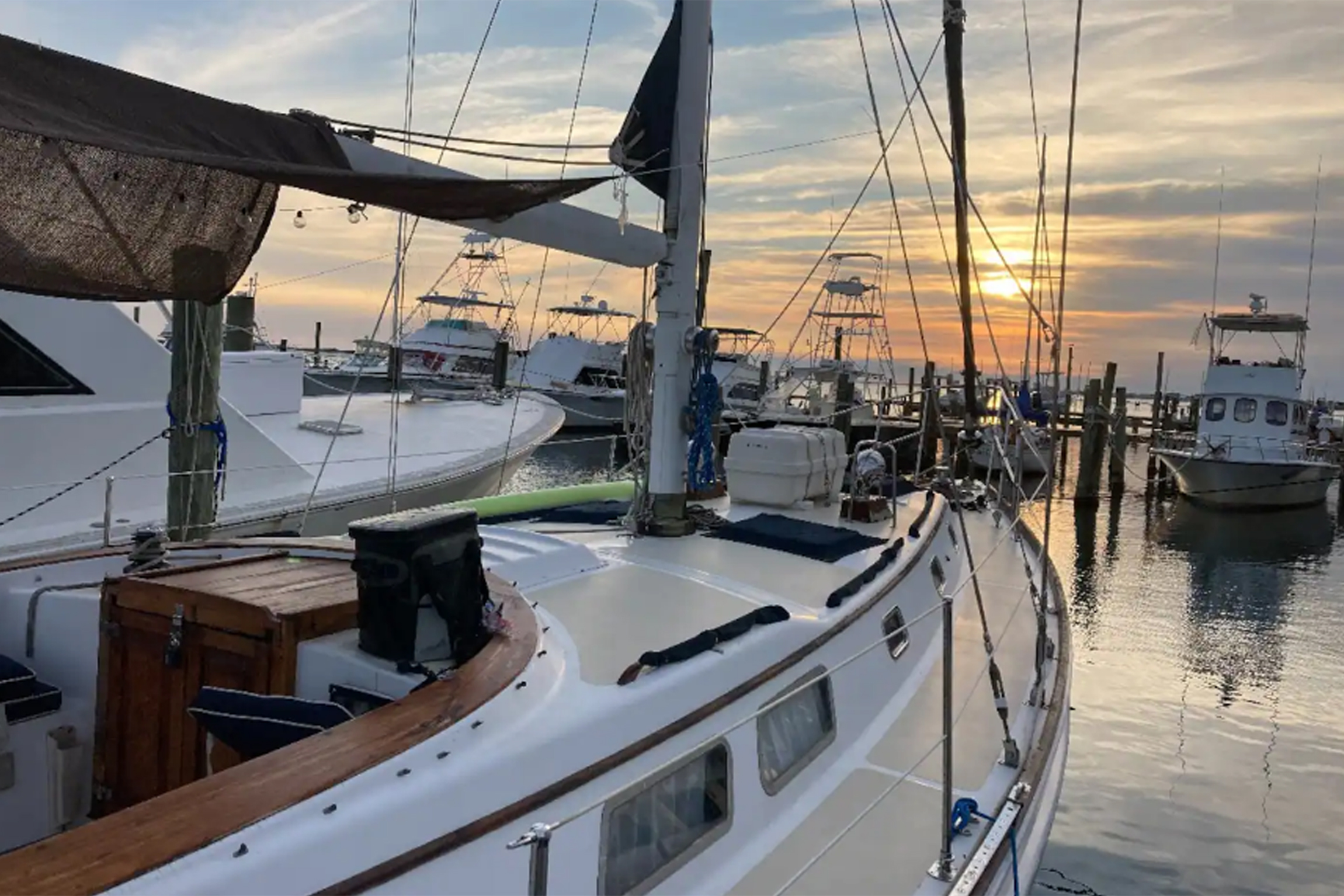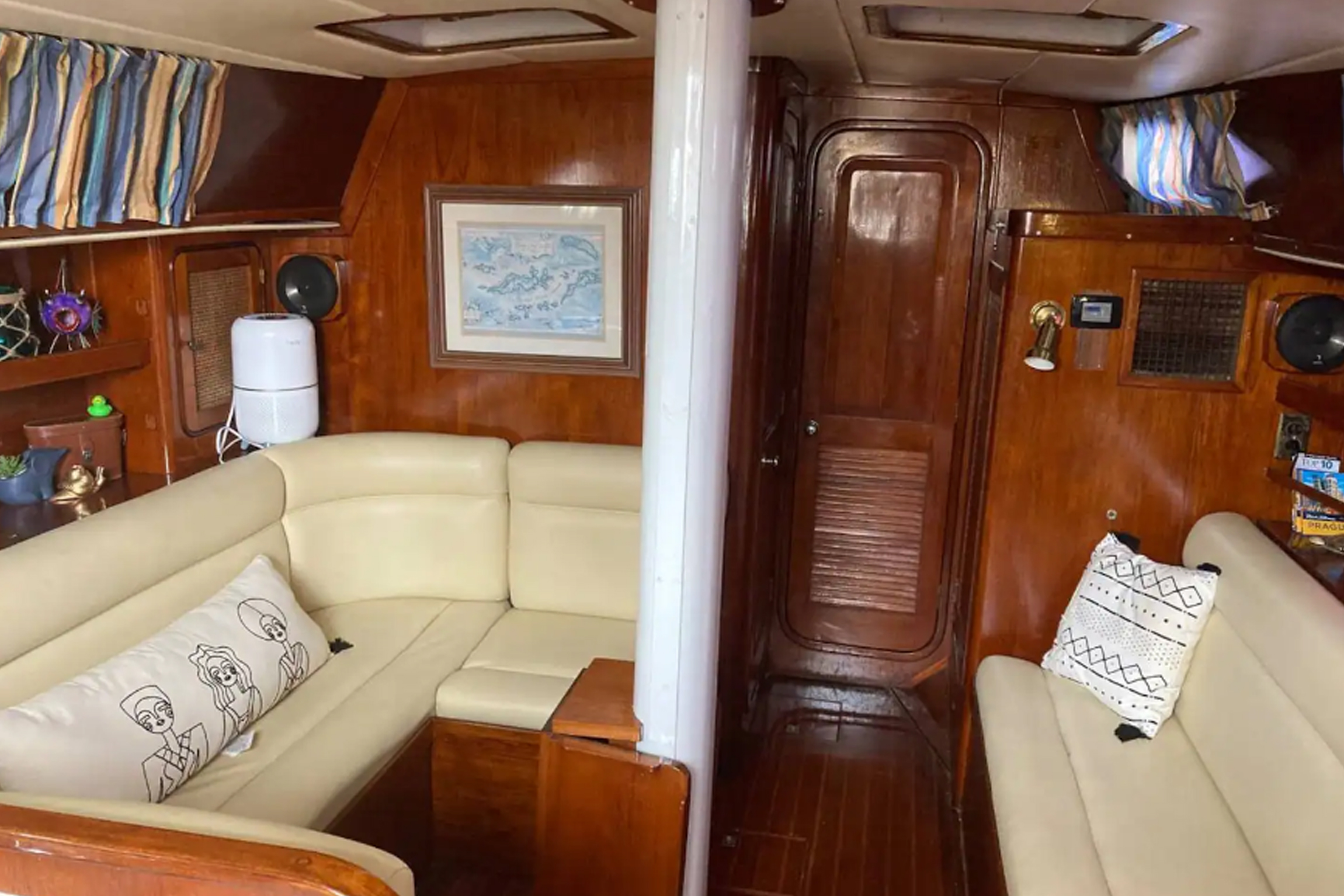 Pensacola's Best Glamping, RV's, Camping and Tiny Homes
Glamping at Coldwater Gardens- A favorite among locals to escape for some much needed R&R, Coldwater Gardens is a fabulous place to spend the nights of your Pensacola vacation. Located at 7009 Creek Stone Rd. in Milton, Florida 32570, Coldwater Gardens is tucked away from town and nestled on Coldwater Creek. Coldwater Gardens is more of a destination than a place to stay as it also features a garden, a playground, tubing, canoeing and kayaking on the creek, animals including chickens, mini pigs, peacocks and goats, and opportunities for wildlife viewing. You must bring your own kayaks and canoes. They have a variety of unique housing options including glamping tents, tiny houses, eco-design cottages, a cabana, canopy cottages, a modern treehouse, and several camping platforms. Everyone we know that has stayed at Coldwater Gardens has reported an exceptional stay. Coldwater Gardens is a popular venue for Pensacola area weddings and retreats. Give them a call or visit their website to book your stay.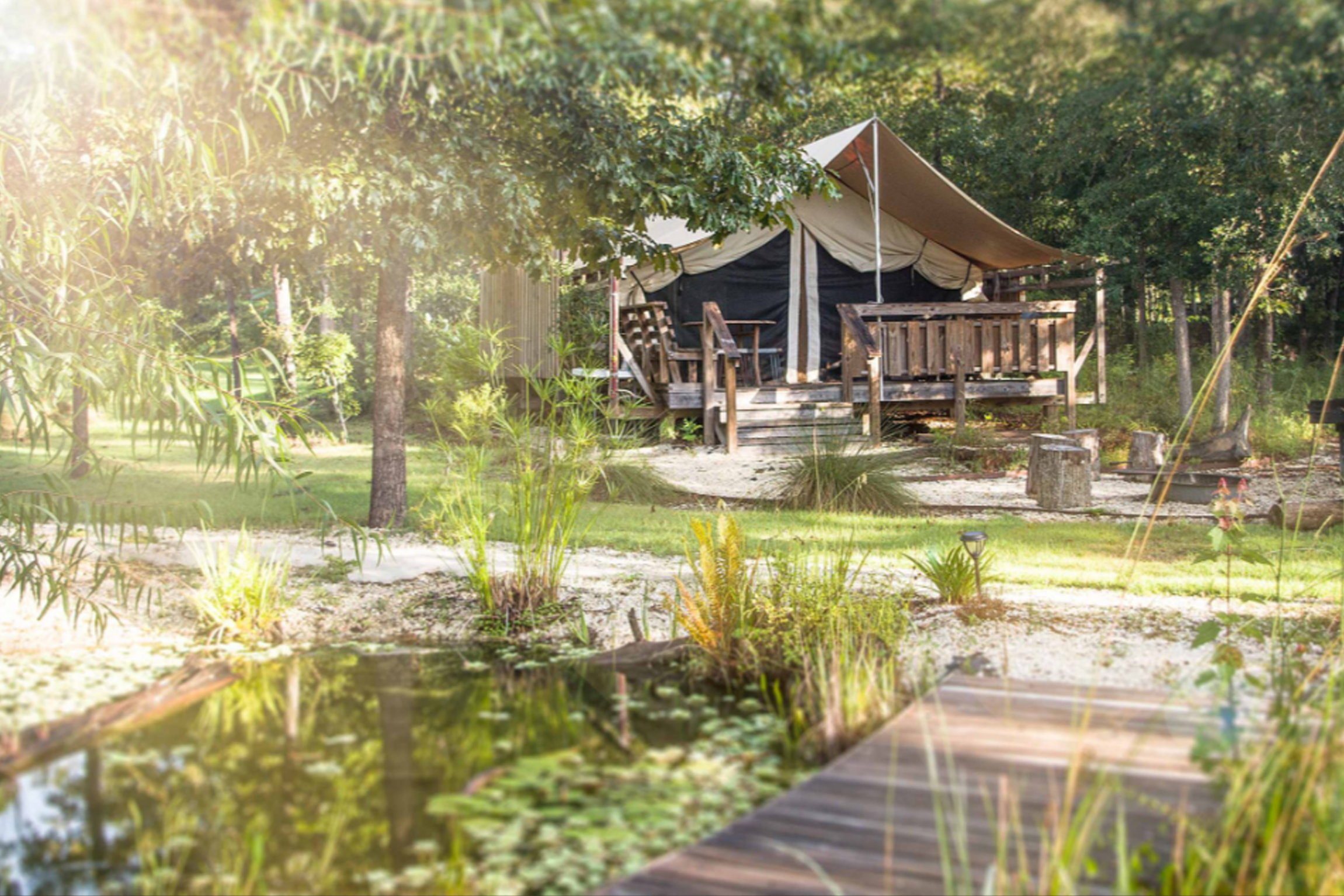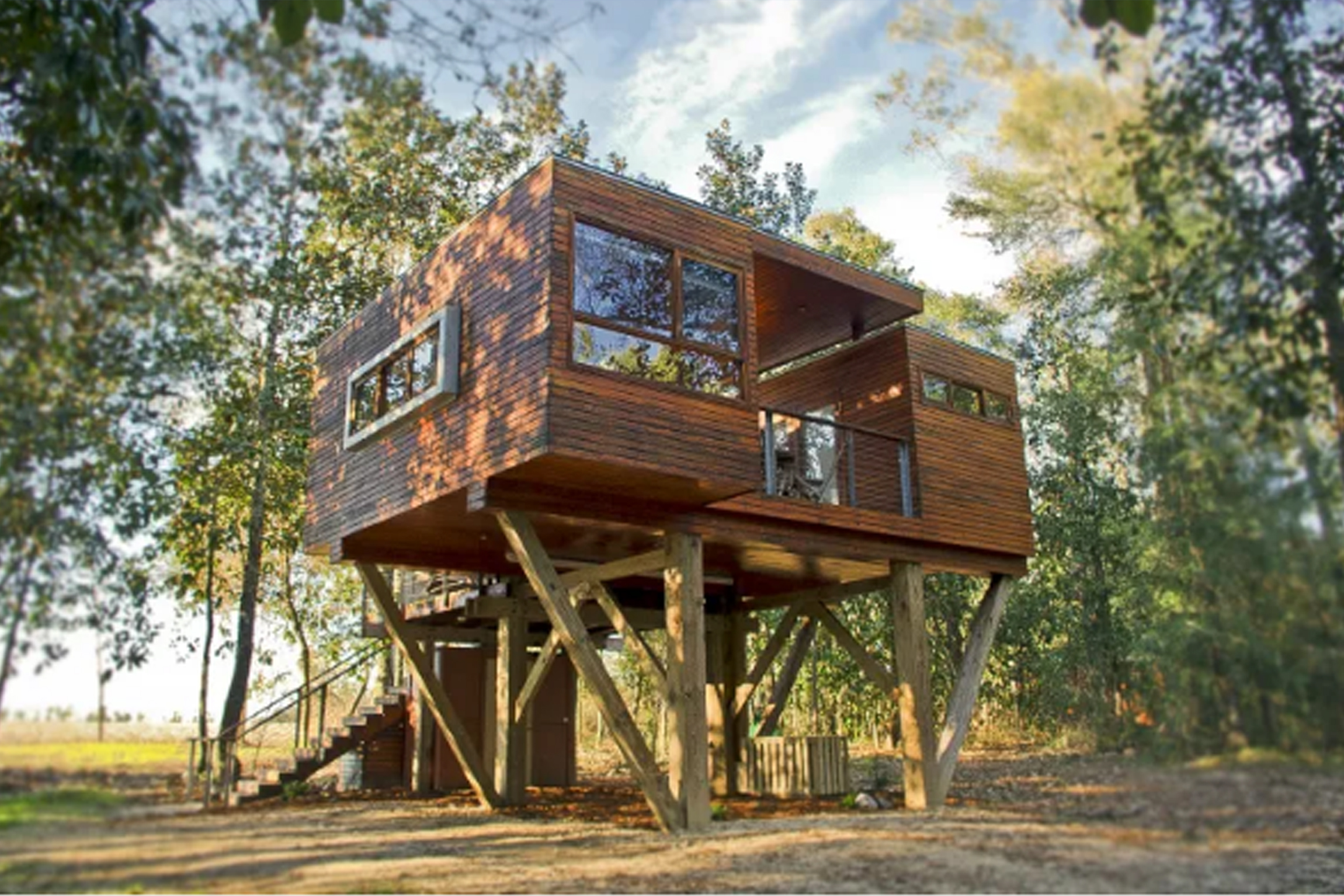 Cozy Vintage Airstream- This 1 bedroom 1 bath vintage 1973 airstream camper is so adorable, inside and out. Tucked in Downtown Pensacola in close proximity to nightlife, Pensacola Bay and more, this highly rated airstream is both pet friendly and affordable. The host says you can even use their bikes, kayaks, and canoes if you'd like. Kudos to the designer as we're smitten with the interior and think this is such a fun place to stay.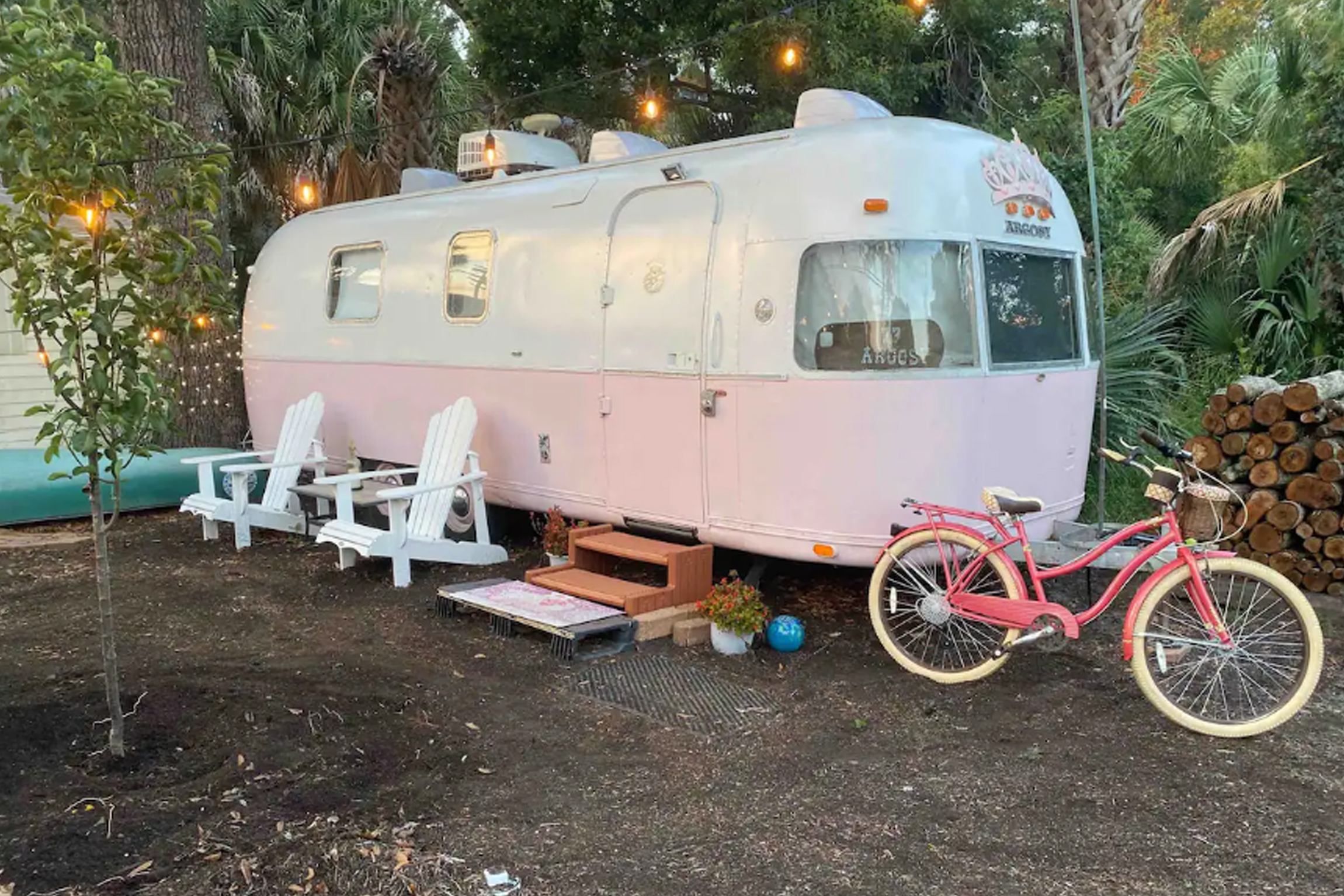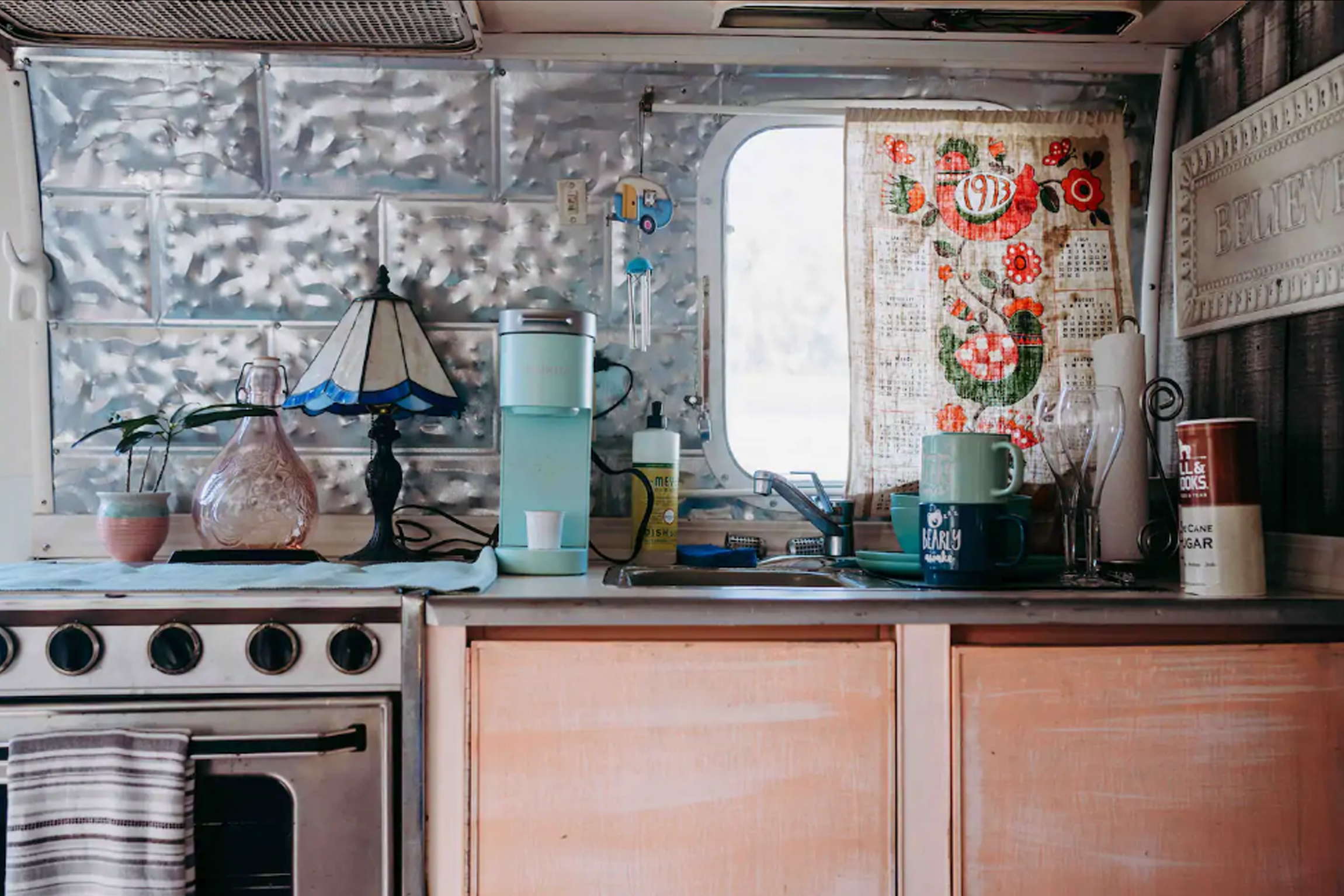 The Lemon Tree Tiny House- This is an adorable tiny home in an RV park in the Tiger Point area of Gulf Breeze. While this listing is not accessible or kid friendly, it is a fun, cheap place to vacation. We really love how colorful and quaint this home is.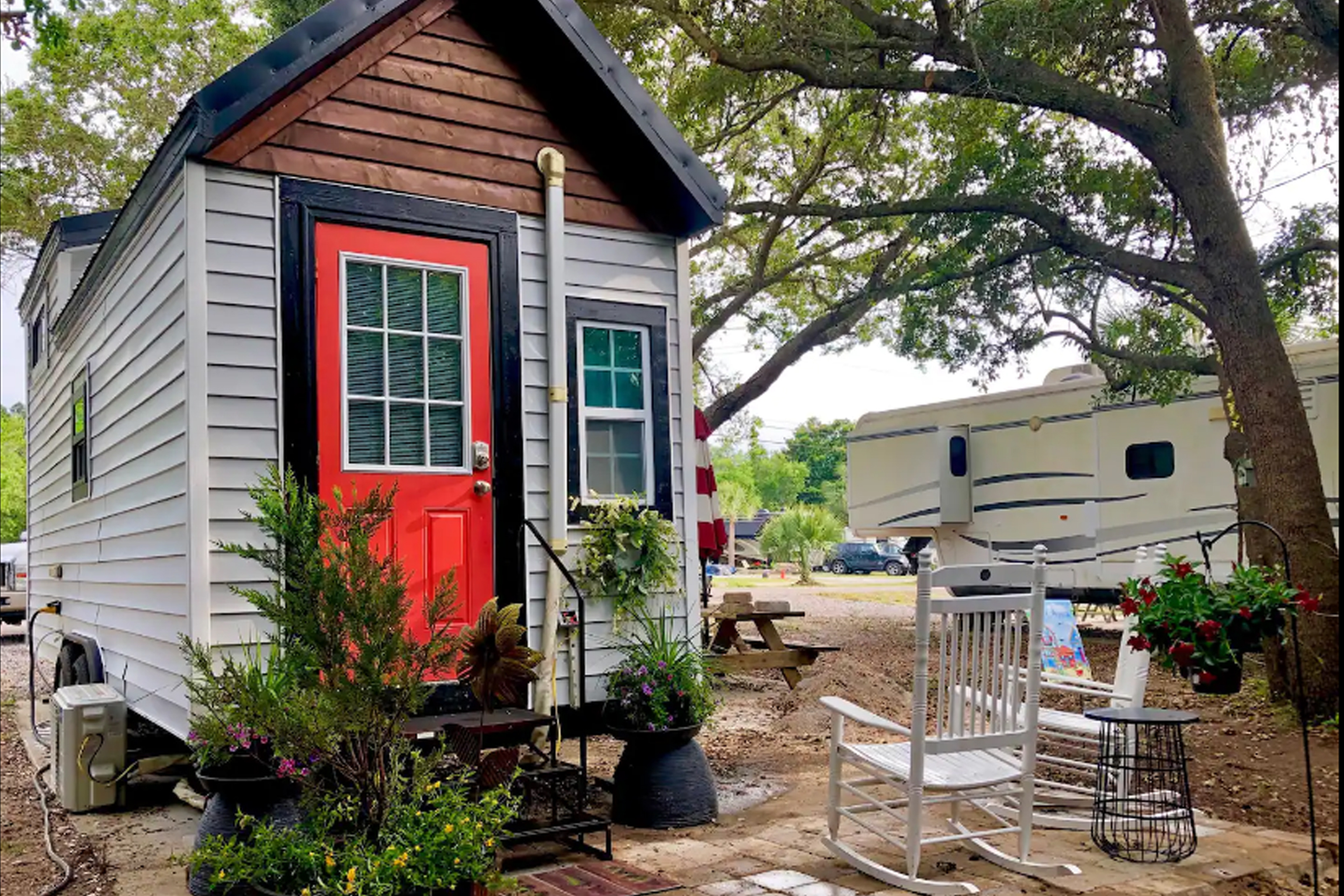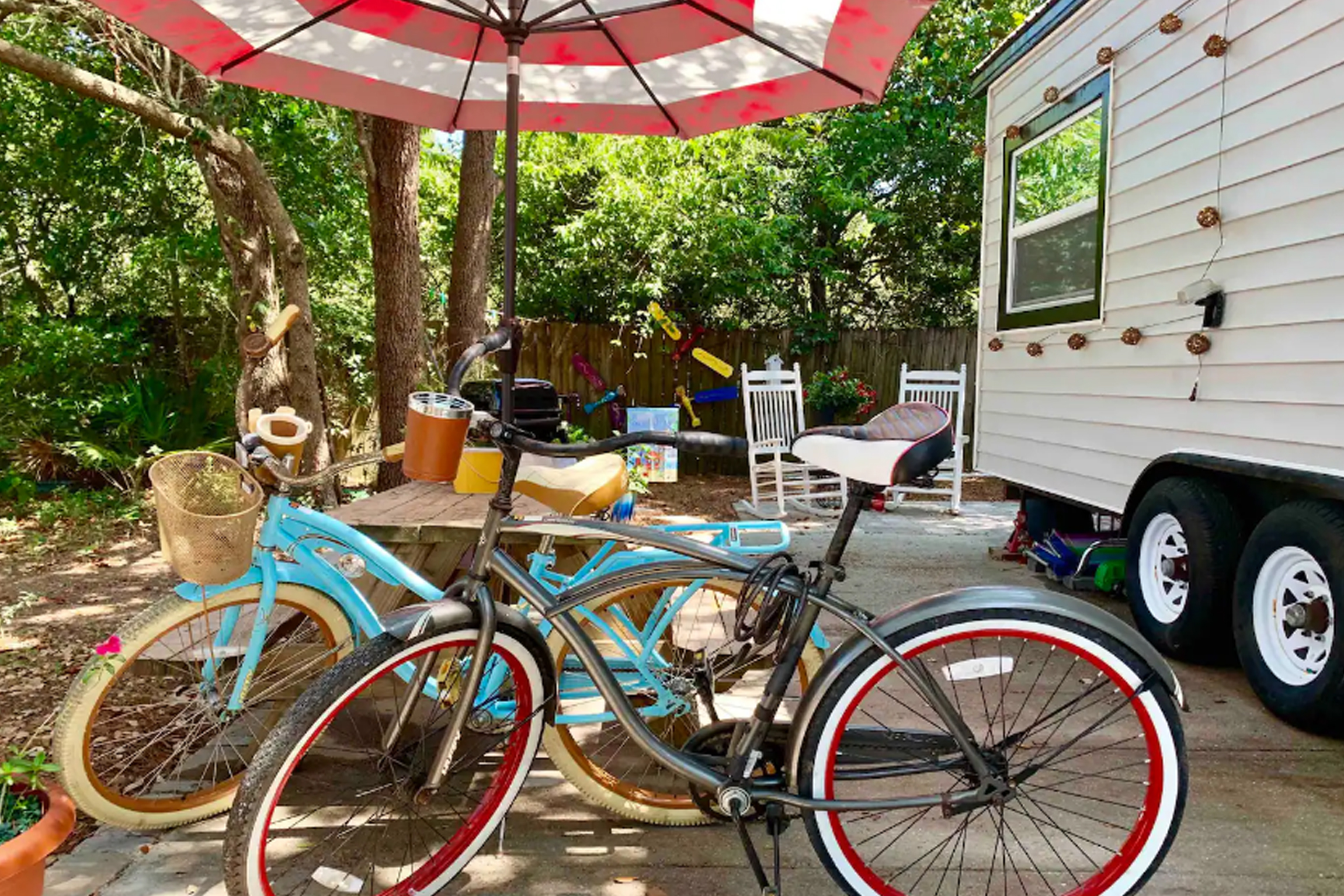 Farm Pensacola Vacation Rentals
Farm Cottage at Eagles Landing- This 2 bedroom pet-friendly farm cottage offers a unique country farm setting that is hard to find in the Pensacola area. Located in East Milton, around a 30 minute drive to Pensacola Beach, this is not your typical Pensacola Beach vacation rental. This farm cottage is located on a ½ acre, surrounded by two horse pastures, on a 3 acre horse farm. Described as both peaceful and rustic, as well as quaint and clean, the reviews from those who have chosen this Milton vacation rental are all very positive.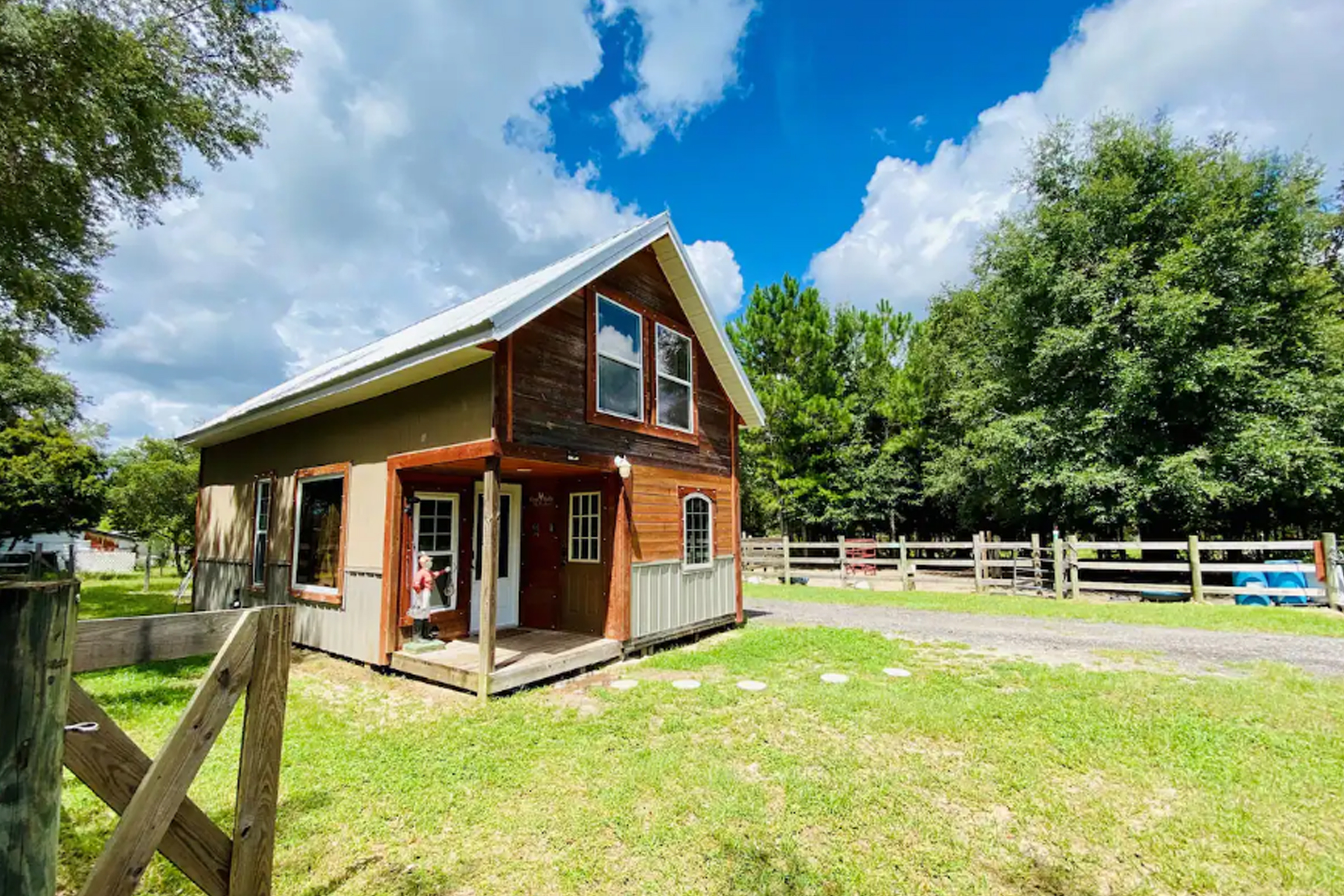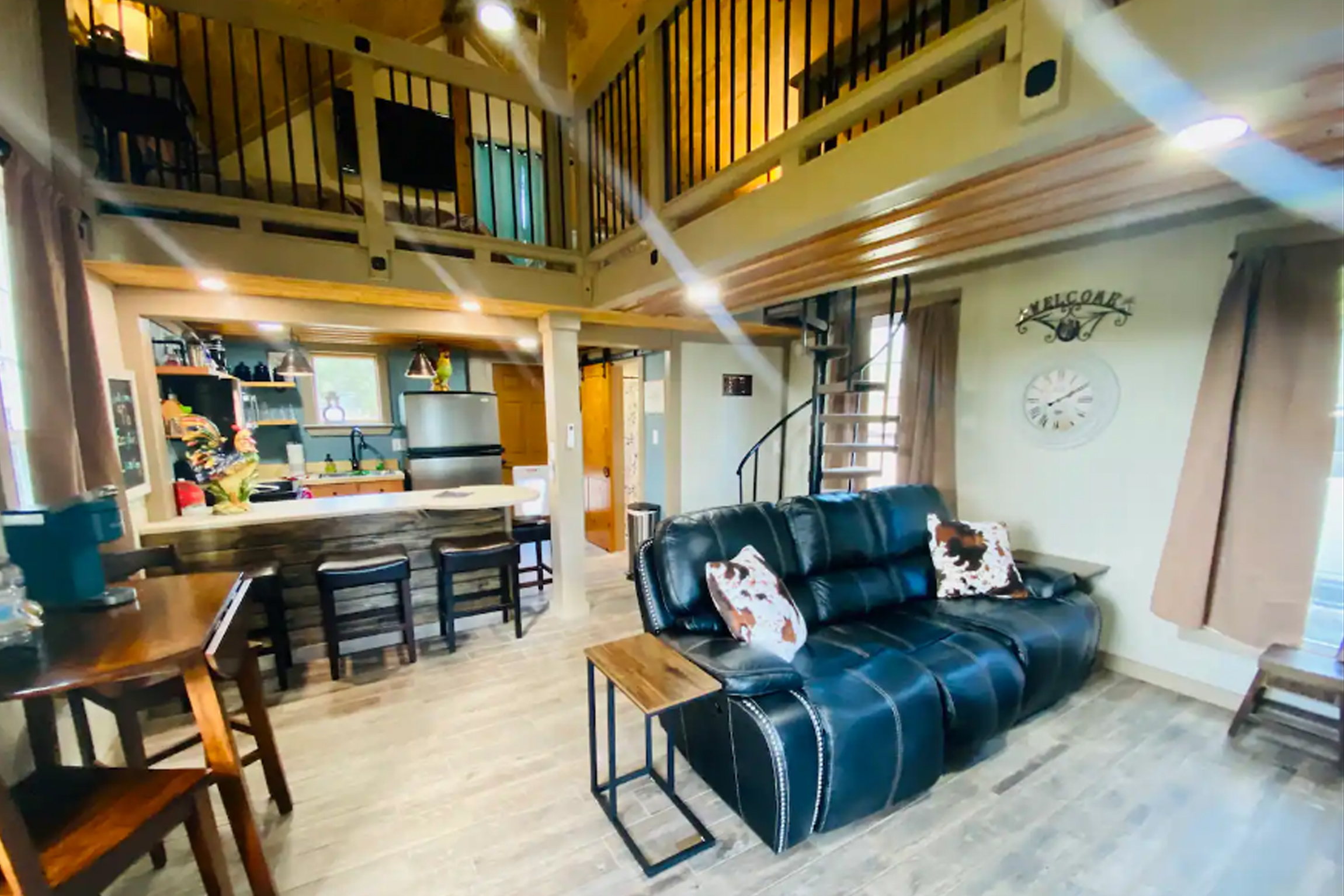 Rose Cottage Farm- Spend a few nights in a guest suite on a 3.5 acre farm in Beulah, Florida. Their listing states this 100 year-old farmhouse used to be a gambling establishment and a brothel during prohibition. Now, it's a quaint farm with chickens and a tea room. The guest suite features 2 bedrooms with a living room and private bathroom on the 2nd floor, however, it does not contain a kitchen. Based off the reviews on AirBnB, the owners excel in hospitality and baking. My favorite said, "If you're looking for southern hospitality and charm, you will find it here" and that's exactly what drew us to this Pensacola vacation farm house.