<![CDATA[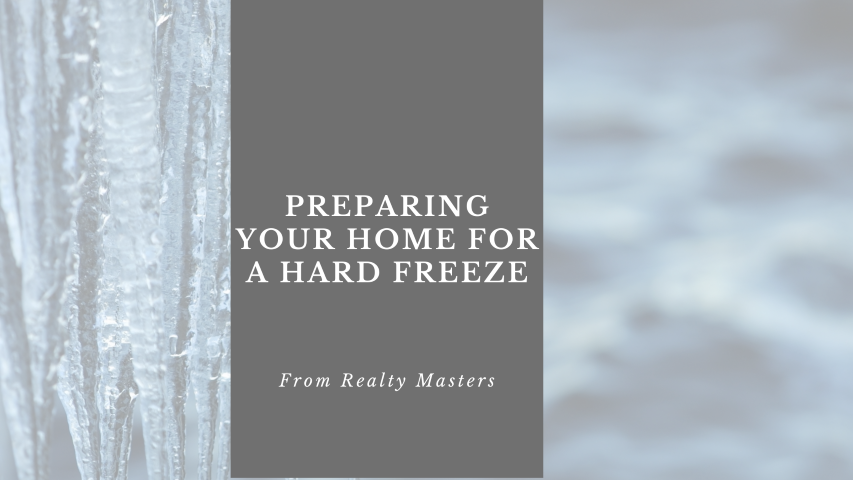 Temperatures will reach below freezing and may continue to remain below freezing through Friday of next week. Take precautions this weekend and keep your pipes protected for the coming week. Repeat these instructions anytime there is a freeze warning. 

If you do not make precautions now, you will be without water and will be responsible for damages to the property caused by failure to protect your pipes. You must take these precautions to make sure your plumbing, sprinkler, and pool pipes do not freeze leaving you without water on New Years Day or throughout the coming week.
Here's Patty and Carlin with some advice on how to prepare your home for the freeze:  
You must take the following precautions to ensure your pipes are protected:

1.  Walk around your home and survey for any outdoor pipes. Any exposed pipes like sprinkler or pool pump pipes should also be covered to insulate it from the freezing temperatures. Simply cover them with towels, blankets, or insulation tape.

2. Leave an outdoor faucet dripping or better yet, wrap your outdoor faucets and/ or cover with insulation boots. The best bet is to wrap all of your outdoor faucets. Hop on YouTube for some solid ideas on how to install your insulation boot cover or to wrap your faucets with common household items.

Also, remember to remove any sprinkler hoses from your spigot. 

3. Leave an indoor faucet dripping slightly to keep water flowing through the pipes.This relieves the excess pressure that can build up inside pipes during freezing weather. 

4.  Locate your water shut off valve in case a pipe does burst as water will need to be turned off at the main connection (usually at the meter in your yard close to the road). This is essential to know and easier to locate in a non-emergency situation.

5. Make sure your heater is on  and set to at least 65 degrees. 

6.  If you have a sprinkler system or a pool, your sprinkler pipes and pool pump pipes must also be covered. If you have insulation tubing, that is best, but if not, cover your pipes completely with towels, blankets, newspaper, or insulation tape. 
originally posted 12-30-2017