<![CDATA[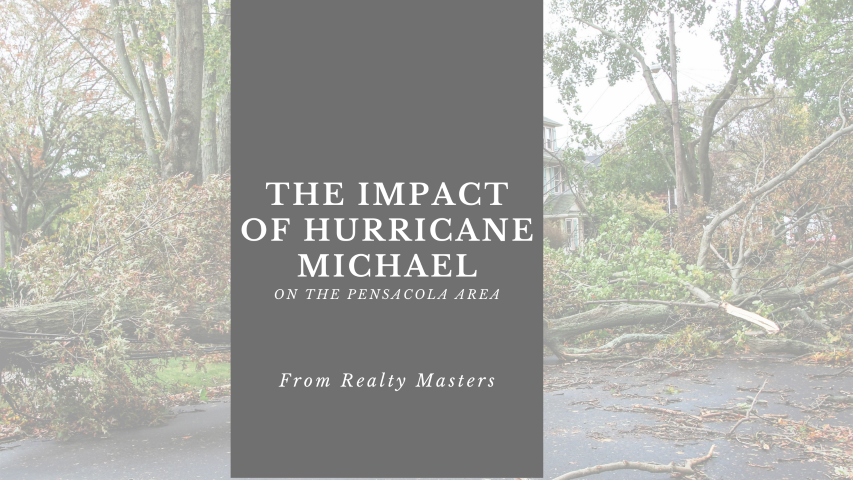 We've felt some impact from the aftermath of major Hurricane Michael, which hit the Panama City area in October 2018. Here are the ways we've been impacted. 
Rental Market Remained Steady
On the positive side, we waived application fees for storm victims and received quite a few renters from Bay County. Along with tightened inventory, the storm helped to cool the winter slow down we normally have. 

With the help of a few owners that did some upgrades and remodeling, we were able to raise our new move in rents 6.5% the last quarter of 2018! Statistically, homes leased in the last quarter of the year receive the lowest increase in rent and have the highest days on the market. 
Roofers and Other Contractors
We have been struggling with contractor resources as many contractors went over to aid in hurricane relief. 

Roofers, general contractors, and remediation companies in the area have been extremely busy. Coupled with extreme rain, there have been several delays with roofing projects in the Pensacola area. Please be patient if you need roofing estimates or roofing work. We expect this to demand to continue into the coming months and year.
Insurance Issues Now & Expected Soon
Another impact of a major hurricane in our state is increased requirements at insurance renewal time! Insurance companies are being really tough right now. 

We've heard of insurance companies sending non-renewals and cancellations or threatening a non-renewal for the following reasons:
Roof older than 15 years 
Homes built before 1972
Homes with trees over the roof line or leaning over the home
Homes with cracks in the driveway
For filing previous claims on any homeowner's insurance policy
In addition to seeing non-renewals coming from certain companies and for certain reasons, we're also seeing a small increase in premiums. 

With so many of these instances happening, we want you to be prepared and aware of the insurance issues we are seeing currently. Here are a few ways you can be prepared for this: 
Limit Insurance Claims
It makes sense to file an insurance claim if something minor occurs and the total costs will be over your insurance deductible. I mean, isn't that what insurance is for? Instances like vandalism, water leaks, and other minor  damages is why you pay for insurance each month. 

We understand the premise, but with the recent hardships in the insurance field, we recommend being cautious when filing insurance claims. We have heard of cancellations from filing a claim or insurance companies raising the premium. It can also prevent you from easily switching insurance carriers, as a carrier can use previous insurance claims as a reason to deny a new policy with them.

Did you know that insurance claims follow you as the homeowner as well as the property?  
We've seen instance where a claim on a rental property affected the owner on securing insurance on their primary residence. We even saw an instance where a new buyer was trying to purchase a home that had a history of a renter's insurance claim and the new buyer was having a hard time procuring a new insurance policy. 

We recommend you pay for these small instances above the insurance policy and only utilize insurance when appropriate and necessary. Consider the long term consequences of filing an insurance claim when computing the expenses for the repair. We know- insurance makes us mad sometimes too. 
Consider Replacing your Roof Instead of Repairing
It could be a waste to repair your roof. Often times, when a roofing issue is reported, a roofer will provide an estimate to repair and/or to replace. The roofer will give their opinion on the life of the roof and what the cause of the issue is.

It may seem easier to repair the roof now and worry about replacing later, but do keep in mind the following: 
Roof leak repairs are not always guaranteed and the leak could occur again or arise in another location.
Repairing could be a waste of money as you will eventually need to replace the roof. 
If your roof is older than 15 years, you will definitely have to replace your roof soon, or in the coming years, to keep your property insured.
If you try to sell the property without replacing the roof, you will NOT be able to sell the property if the roof is older than 15 years. FHA/ VA financing will deny the loan AND the new buyer will likely be unable to secure a new insurance policy.
We strongly suggest replacing your roof at this time and not spend funds to repair the roof. Of course, we will review each situation on an individual basis. 

As many of the homes in our area had roof replacements after Hurricane Ivan in 2004, please keep in mind that these roofs are now 15 years old. Many of the homes that did not need a new roof at the time of Hurricane Ivan were built between 1999 and 2004. These roofs are 15-20 years old now!  Reach out if you have any questions or concerns. 
If we have any insurance professionals reading these, please feel free to reach out to us with additional information! 
The Realty Masters of FL Team
#1 in Pensacola Property Management and Leasing! 
originally posted 01-12-2019