<![CDATA[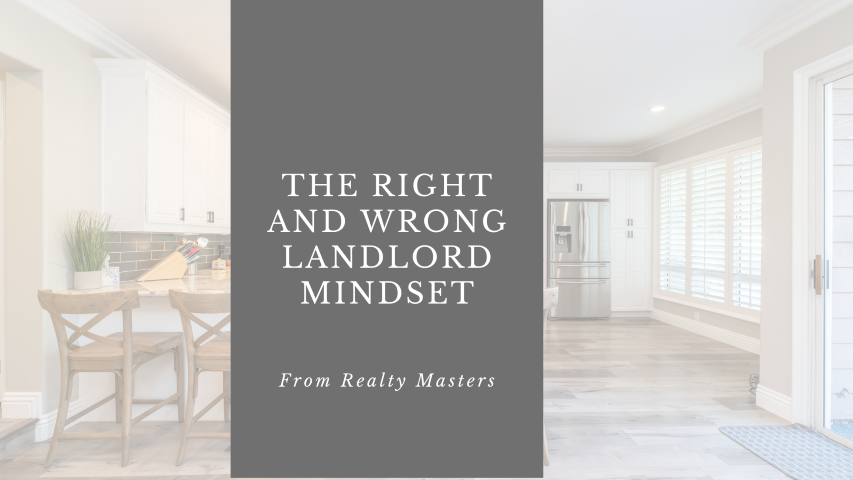 It's important to have the right mindset in order to be a successful landlord. 
Recently, I have seen several stories online relating to violence between landlords and tenants. A tenant was stabbed in the Bronx; a landlord was killed in her house in Clearwater, Florida. It can be hard being a landlord, but it shouldn't land you in a hospital, a jail, or a morgue.
In most cases, your tenants will rarely take as good of care of your property as you would. Your renters will not pay for maintenance costs willingly and they will most likely not properly prepare your property for the next resident. Your rental is going to have vacancy time and it will cost you money. It is very likely that you will have to pay for a very expensive repair at some point. These are the risks and challenges you accept when becoming a landlord.
When becoming a landlord you must have the right mindset to be accepting of these truths or the entire experience of being a landlord could drive you crazy.
If you go into being a landlord thinking, "I can find the over-achiever, grade A tenants every time!" you will probably be disappointed. 
Another idea new landlords have is, "I just want my property to look like it did when I lived there", but this is not a realistic long-term approach to being a landlord unless you contribute to keeping it that way. You must put forth effort, money, and energy into maintaining or improving your properties. Landlord Tenant Law does not allow landlords to charge tenants for every cost required to turn over a property for a new tenant.  The majority of tenants will not do routine maintenance tasks such as pressure washing, small interior maintenance, or keeping up with the yard. 
Instead, realize that your tenants are not going to put forth the same effort you may have and incentivize them to do more by equally contributing to routine and preventative maintenance.
Be very appreciative of your excellent tenants.
The ones who pay rent on time, keep your place immaculate, plant flowers, and don't complain or ask for a lot.
Send them a thank you card or mail them a small gift during the holidays. 
Thank them for preserving your property like you would have and for increasing the property value while they did.
Be appreciative of your good tenants.
The ones who paid a week late that one time when their car died, that don't plant flowers, but that mow the yard timely.
The ones that don't clean right when they move and the walls need a little touch up but everything is intact and well cared for. 
By occupying your rental property, they are helping you to gain equity, to keep your credit score up, and to save for retirement.
You can even be appreciative of the bad tenants.
Appreciate the ones who call every month with some new major issue because they're not letting your house fall apart.
Appreciate the ones who move in the middle of the lease because they paid rent timely and voluntarily turned over keys so no eviction was necessary.
Be appreciative of the ones that stayed for five years even though they were so messy and Florida Landlord Tenant Law says you can't charge them for fresh paint and new carpet.  Appreciate them because they have saved you months of vacancy costs over the years.
Look at being a landlord as being a small business owner. With revenue comes expeses. 
Routine and preventative maintenance is important for your rental investment and increases the value of your real estate asset. Properties with up-to-date features and in overall better condition will yield higher rents, be easier to maintain, and have less vacancy costs.  
Don't be upset when your tenant calls in routine maintenance, be appreciative of the opportunity to increase the value of your long-term asset in smaller increments over time.
It will be a relief when the A/C repair only costs you $350 because it didn't require a brand new inside and outside unit.
Be appreciative when the plumbing emergency doesn't happen on a Sunday or a holiday and that it didn't flood your downstairs.
Landlords who invest in real estate with the wrong mindset will constantly be disappointed with their tenants actions and will never appreciate the fact that another person is paying down their mortgage and helping them to build wealth with a real estate investment.
Do you have questions about becoming a landlord in the Pensacola, Florida area? Reach out to our team for honest advice on being a landlord.
originally posted 03-01-2017