Pensacola has a thriving night life which has been enriched over the past decade with plenty of local breweries. They each offer something unique to the Pensacola area. If you are looking for a local brewery in Pensacola, we suggest checking out one of these local hot spots.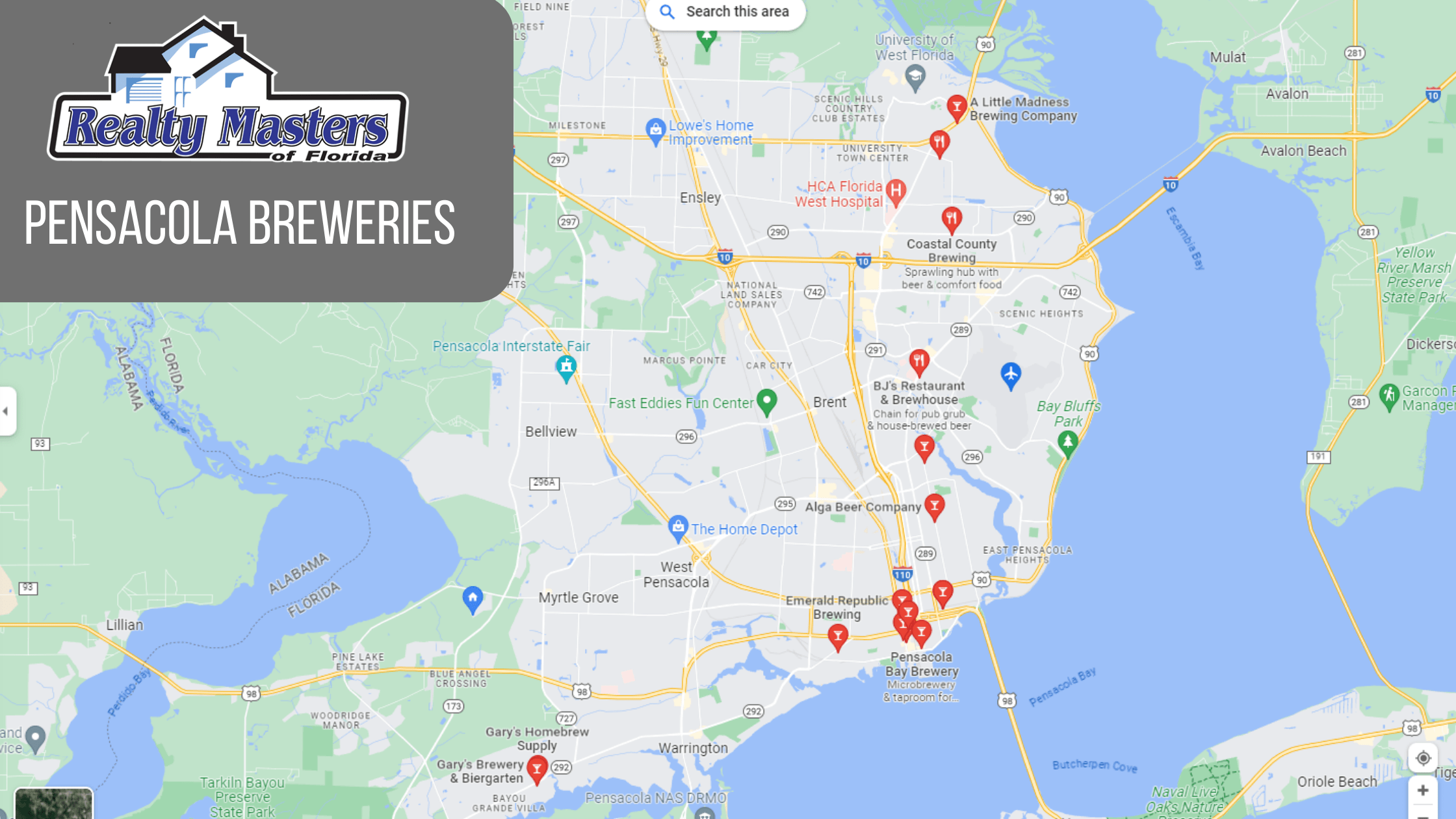 The establishment is conveniently located in Central Pensacola off 12th Ave., making it easily accessible for locals and visitors. The brewery offers a wide variety of beer flavors, from classic to experimental, to cater to different preferences.
The indoor seating area is spacious and offers a cozy atmosphere with dim lighting and comfortable seating.
The outdoor seating area is perfect for those who enjoy the fresh air and sunshine while enjoying their drinks and food.
The live music performances add to the lively and fun atmosphere of the establishment.
Pet friendly: The brewery welcomes pets, making it a perfect spot for pet owners to enjoy drinks and snacks with their furry friends.
The staff is friendly and knowledgeable about the beers, always ready to offer recommendations and answer questions.
The new flavors introduced regularly keep the menu fresh and exciting, encouraging customers to come back and try something new.
Formerly known as Big Top Brewing Company, located downtown on Romana St. makes it easily accessible for locals and tourists alike.
The atmosphere of the place is lively and upbeat, making it a great spot for a night out with friends or a date night.
The food menu offers a range of options to suit all tastes and dietary needs.
Drink options: The drink menu is extensive, with a variety of alcoholic and non-alcoholic beverages to choose from.
The live music and other entertainment provide a fun and unique experience for patrons.
Whether you're looking for a place to grab a bite to eat, have a drink, or catch some live music, this place has something for everyone.
Perfect Plain Brewing Co. is not just a brewery, it is a destination that offers a unique and memorable experience. Here are some reasons why you should visit:
Locally-inspired craft beer: Perfect Plain Brewing Co. offers a wide range of locally-inspired craft beers that are brewed on-site. From stouts to IPAs, there is a beer for every taste.
Outdoor experience: In addition to the indoor brewery experience, Perfect Plain Brewing Co. offers an outdoor experience like no other with its Garden and Grain located at the back of the brewery. Enjoy a drink while surrounded by beautiful greenery and a laid-back atmosphere.
Drink options: Perfect Plain Brewing Co. offers more than just beer. They also offer a variety of other drink options, including margaritas and other cocktails.
Location: Perfect Plain Brewing Co. is located in the heart of downtown Pensacola, making it a convenient and accessible destination for locals and tourists alike.
Community involvement: Perfect Plain Brewing Co. is committed to giving back to the community and supporting local causes. By visiting, you are supporting a local business that supports the community.
If you're looking for a fun and welcoming place to spend time with the whole family, Coastal County Brewing Company on Olive Rd. in Northeast Pensacola is the perfect spot. Here are some reasons why you should check it out:
Family-friendly atmosphere: Coastal County Brewing Company is a great place for families with kids and even pets. You can bring your furry friends along and let them join in on the fun.
Wide selection of drinks: Even if you're not a beer person, there are plenty of other drink options available at Coastal County Brewing Company. From cocktails to non-alcoholic beverages, you're sure to find something you love.
Delicious food: In addition to drinks, Coastal County Brewing Company also offers a great selection of food options. Whether you're in the mood for a snack or a full meal, there's something for everyone.
Unique events: Coastal County Brewing Company is well-known for the variety of events they host. From tye dye parties to goat yoga, there's always something fun and exciting happening at this spot.
So, if you're looking for a place to relax and have a good time with your family and friends, Coastal County Brewing Company is definitely worth a visit.
The design of this brewery perfectly complements its charming and laid-back atmosphere, making it a must-visit destination in the area. Goat Lips Chew and Brewhouse is located in Northeast Pensacola off Davis Hwy. Here are some design elements that contribute to the welcoming ambiance:
Indoor-outdoor flow: The seamless transition between indoor and outdoor spaces creates a sense of openness and relaxation, allowing customers to enjoy the beautiful Florida weather while sipping on their favorite brew.
Cozy seating: The comfortable and inviting seating options, including couches and armchairs, provide a cozy and intimate setting for groups of friends to gather and socialize.
Personal touches: The owner's personal touches, including friendly greetings and interactions with customers, add a special touch to the overall experience and create a sense of community and belonging.
Overall, the design of this brewery is a perfect match for its atmosphere, creating a space that is both inviting and memorable.
Odd Colony is situated on North Palafox, in the bustling downtown area of Pensacola on Palafox Street. Due to its proximity to numerous restaurants and nightlife hotspots, it is a popular destination for visitors.
The farmhouse-inspired design creates a warm and inviting atmosphere in the heart of downtown Pensacola. The focus on seasonality not only ensures the freshest ingredients in their beer but also adds to the overall ambiance of the brewery.
Odd Colony offers more than just great beer, they also have a variety of events and activities for the community to enjoy.
The Saturday yoga classes with an in-house instructor provide a unique way to start your weekend.
The option to purchase to-go drinks allows you to take your favorite brews home with you.
Event venue: Hosting private events at Odd Colony is the perfect way to celebrate special occasions in a fun and unique setting.
Doc's Hop Shop is located close to downtown Pensacola at 500 E Heinberg St. behind McGuire's Irish Pub. This brewery just recently opened in April 2023 as it took over the Gulf Coast Brewery location. We look forward to all the things they will bring to the community. Doc's is owned by a local former doctor and his son living their dream. You will see the common medical theme throughout their design. They are finishing up their first cornhole league.
The space is designed to be open and inviting, with plenty of natural light and seating. This makes it a great place to relax and catch up with friends over a pint. The owners have also paid attention to the details, with custom details and artwork that add a personal touch to the space.
Unique Events: The cornhole league is a fun addition to the brewery, and the owners have created a designated area for players to compete. This adds to the overall community feel of the space and encourages customers to come back on a regular basis.
Overall, Doc's Hop Shop is a great addition to the Pensacola area, offering a unique and welcoming space for locals and visitors alike.
If you're a beer enthusiast or just looking for a chill spot to relax and enjoy some drinks, Pensacola Bay Brewery is a great option to consider. Here are some more details about what you can expect:
Primate location: Located within walking or scooter distance of downtown Pensacola, it's a convenient spot for locals and tourists alike. The brewery is situated right by Seville Square Park, making it a popular spot during downtown festivals and events. It's a great place to take a break and grab a cold one.
The large covered patio is a highlight of the brewery, with fans to keep you cool even on hot days. Plus, it's dog-friendly, so you can bring your furry friend along to enjoy the atmosphere.
Drink options: With over 20 beers on tap, there's something for everyone to enjoy. They also offer wine and cider for those who prefer something different.
If you're interested in learning more about the brewing process, the staff is knowledgeable and happy to answer any questions you may have.
If you're looking for a unique and eclectic brewery experience, Emerald Republic located in Downtown Pensacola is a must-visit. Here are some reasons why:
Wide range of drink options: In addition to its beer selection, Emerald Republic offers cocktails, wines, and ciders. This makes it a great spot for groups with varied drink preferences.
Food options: The Rustyc Spoon Food Truck offers a diverse menu that pairs well with the drinks. Whether you're in the mood for a burger or something a little more adventurous, there's something for everyone.
Pet-friendly: If you're traveling with your furry friend, you'll be happy to know that Emerald Republic is pet-friendly. They even have a large outdoor area with plenty of seating where you can relax with your pup.
Events: From yoga classes to private events, there's always something happening at Emerald Republic. Check their calendar to see what's coming up during your visit.
If you're looking for a unique and exclusive experience, the 5 Barrel is the perfect spot for you. Here are some additional details you may be interested in:
The bootlegger's club is a great way to get more involved with the 5 Barrel community and receive exclusive perks.
While the selection may be smaller, the focus on perfecting each drink ensures a high-quality experience every time.
The Charcuterie boards and appetizers are the perfect complements to the drinks, adding to the overall experience.
With its prime location on Palafox, the 5 Barrel is in the midst of all the action and is the perfect spot to start or end a night out on the town.
If you're looking for a unique and historic spot to grab a drink, you won't want to miss this bar on 12th Ave. With its roots as a grocery and supply store in the 1920's, this bar has plenty of history to explore. And with the surrounding area being mostly residential, it's the perfect spot to escape the bustle of the city and unwind with a cold beer.
Drink options: One of the highlights of this bar is its extensive beer selection. From local brews to international favorites, there's something for every taste. And if you're looking for something extra special, be sure to ask about their rotating selection of seasonal and limited-edition beers.
But it's not just the drinks that make this bar worth a visit. They also offer live music and trivia nights, making it the perfect spot for a fun night out with friends. So whether you're a history buff, a beer lover, or just looking for a good time, be sure to check out this unique bar.
If you're looking for a fun night out with great food and entertainment, this spot on Davis Hwy in Northeast Pensacola is the perfect choice for a night out with friends, a date night, or a family dinner. Here are a few reasons why:
Convenient location close to the University of West Florida and in the northeast Pensacola area.
Pizza kitchen with a variety of delicious options to choose from.
Multiple ways to enjoy their food and drink offerings including reservations, curbside, and delivery options. There's also a small outdoor patio for those who prefer to dine al fresco.
Drink options: Wide variety of drink options including canned cocktails, crowlers, growlers, and kegs.
Live music and trivia nights to keep you entertained throughout the week.
If you're looking for a great spot to unwind and enjoy a drink, this Southwest Pensacola brewery is the perfect destination. Here are some reasons why you might want to check it out:
With the largest outdoor area of any local brewery, you can enjoy your drinks and the beautiful Florida weather.
Pet friendly: Bring your furry friend along, as this location is pet-friendly.
If you're interested in brewing your own beer, they offer home brew kits so you can try it out from the comfort of your own home.
Be sure to check their event calendar for a variety of fun and exciting events throughout the year including goat yoga!
If you're feeling adventurous, be sure to try a beer-mosa, a refreshing twist on the classic brunch cocktail made with beer instead of champagne.
Please remember, if you drink do not drive. Pensacola has Uber, Lyft, taxies and many other options.