Finding a Pensacola rental home and moving is usually a stressful time, without adding anything onto that process. However, with the increase usage in online platforms, we have seen an extra issue that people now need to be aware of. Scammers are taking advance of rental platforms to target people looking for a home to rent. Unfortunately, almost every day we are hearing of people fraudulently posting homes for rent that they do not even own. Most of the time they target homes that are currently for rent or sale to add extra confusion to people looking online. The scammers goal is to take money in the form of application fees, deposits, and/or first month's rent, and to access your personal and private information like social security number and other personal information.
Platforms like Facebook Marketplace and Craigslist especially have exploded with these types of fraudulent listings. Here's a few different factors you can look for to help you avoid these kinds of scams.
Typically, a scammer will copy an actual rental or sales listings details and photos and use that to make a listing at a price point much lower than what the home is actually listed at.
Scammers will say they fired their Realtor because they weren't doing a good job so disregard any advertisements for the house or they changed their mind.
Most of the time, these people will use profiles that have been active for many years to seem like they are legitimate, but more often than not, they are not local to the area they are supposedly trying to rent a house out in. Unfortunately, it seems that they are hacking legitimate profiles and often times they do seem like legitimate profiles. It's easy to spot someone who is not in the area (or even country) and profiles that have just been created with no friends, but we caution you that many we have seen do not only fit this criteria.
Scammers are easily able to obtain a local 850 area code phone number by using free services such as Google Voice so never use this as a way to validate a potential property owner.
They will often use county tax roll data to find the owners name and create emails with a similar name in them to communicate on. Most of the time they will not ever actually communicate over the phone and usually give some reason they can't talk whether it be a physical ailment or just not being tech savvy. They then communicate with you via email and ask you to apply for the home, but when the money is sent for the application fee they do not ever respond and take that money. Do not give your personal and private information to anyone or send funds.
We get reports of people falling for these scams daily, and it is important to check into these details prior to dealing with someone online. Here are some tips to help avoid falling victim to a Pensacola rental housing scam.
Here's our favorite way to validate a scam using Google reverse image search to investigate the property you are viewing on FB Marketplace or another online venue.
Additionally, utilize these types
We always encourage people to ask to speak directly on the phone to someone claiming to rent a house and provide some form of documentation that they are the actual owner.
The old saying if it is too good to be true should always be applied to this as well and if something is priced too low for the homes market rent, you should always make sure to check into this the best you can.
A good rule of thumb to consider is to double check sites like Zillow and Realtor.com to see if the home is also offered there. If it is priced differently on those, then chances are it is not a real person. Most reputable companies and owners will post on these platforms, but scammers tend to avoid them do to the extra verification that is required.
It is also a good idea to drive to the home and see if there are any signs with contact information to verify that the person you are speaking with has the same contact info as the sign.
It is always best to avoid sending application fees or personal info to anyone without verifying that these red flags done exist. Often, a scammer will ask for the money to be sent in a way that is not easy to track, so it best to avoid anyone asking for things like money wires or certified funds that cannot be reversed, when that app fee payment comes up. If you have to use a payment app, the best option would be to use a service like PayPal goods and services. If someone does attempt to scam you with that, you can at least make a claim with PayPal and get reimbursed, so most scammers will try to avoid that.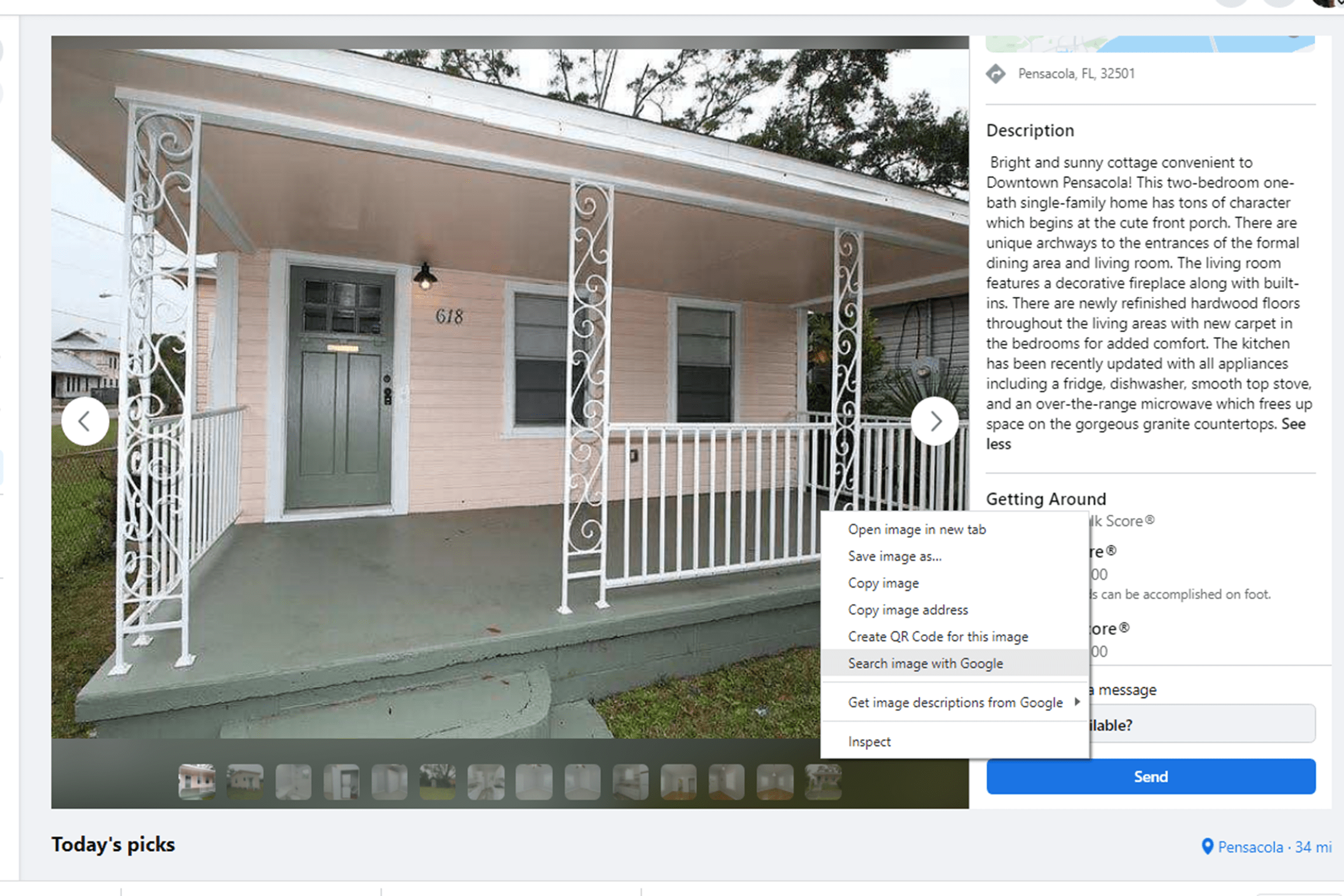 At the end of the day the safest way to go about your process would be to deal with a reputable management company or real estate agent, and to focus on your searches through sites with the most verifications, like your local MLS. The Pensacola MLS can be found at www.PensacolaMLS.com. Realty Masters is the largest single-family property management company in the Pensacola area, and we always have nice homes available. View them here.
Finally, if you have any doubts, take the time to reach out to a local Pensacola rental company to double check, if you are still unsure. By taking all these precautions, you can give yourself the best chance at avoiding a scammer and take one more headache out of the moving process.