<![CDATA[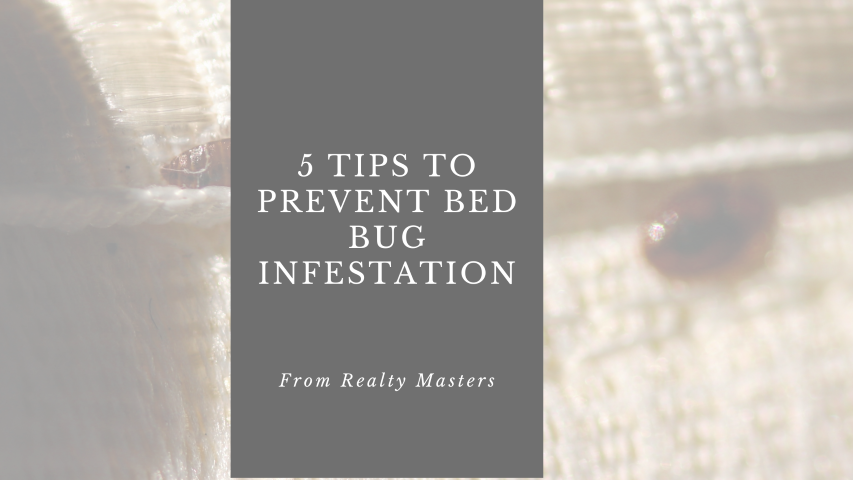 Five tips to help you prevent a bedbug infestation in your home:
1) Don't buy used furniture!  
Bedbugs don't build nests like typical pests; they prefer to live in furniture. While mattresses are the preferred hiding spot for bedbugs, they can hide and live in couches, chairs, rugs, luggage, purses, clothing, inside books and even picture frames! 
Because of this, you must be careful when purchasing used furniture as a few bugs can lead to an infestation. Fully inspect all crevices of any furniture before purchasing anything used. 
Bedbugs are hard to kill and expensive to treat. We've seen bedbug treatments cost anywhere from $350- $1,000. Plus, treatment will include throwing away any affected items. Why take the risk? 
2) Be cautious while traveling. 
Google pictures of bedbugs and bedbug infestations. It grosses me out so I can't post them here.  Be aware and take precautions!  Here's some good information from the EPA on bedbugs: http://www.epa.gov/bedbugs 
Check prior to your departure to see if your hotel appears on any of these bedbug registry websites: http://www.bedbugreports.com/  and http://registry.bedbugs.net/ 
Whenever traveling, ensure you check all beds in your hotel room prior to unpacking any luggage. Pull off the sheets and check on the undersides of the mattresses as well as in all four corners. Look for any live bugs, bloodstains, and fecal matter or residue. 
It's also best practice not to put your purse or luggage on any carpeting when you are traveling.  Many people pick up bedbugs at a hotel without ever knowing it because they don't take precautionary measures.  
3)  Use mattress covers for all beds in the household.
A mattress cover is totally worth the costs, especially if you just googled bedbug infestations.  A mattress cover can protect your mattress from bugs trying to make it home.  Experts suggest purchasing a white or light colored mattress protector so it's easier to spot any critters. 
4) Routinely check your bedroom for bedbugs.
Be sure to check your entire bedroom and any furniture surrounding the bed, including the edge of carpeting, in nightstands, lamps, and in your clock radio.  They like to be close to possible hosts. Bedbugs feed during the night and often go unnoticed for long periods of time.  Because they are nocturnal and feed while you are sleeping, bedbugs most commonly live in mattresses.  
The bite of a bedbug is painless and causes a small red itchy irritation on your skin.  They can often be confused as flea or mosquito bites. Bedbugs are said to feed every 5 to 10 days but can sustain for several months without feeding! 
5) Act Fast if you suspect a bedbug situation.
You can have a casual encounter with a bedbug and walk away unscathed if you act fast. Be aware, do your research, and stay vigilant especially when traveling or visiting others homes.  If you suspect you have encountered bedbugs, notify the appropriate parties.  It's best to isolate any items that may have been exposed. Wash all clothing dry on high heat.  Put shoes, stuffed animals, and purses in dryer on high heat. Throw away items that cannot be dried that may be affected such as luggage.  
Contact a pest control person immediately for further advice and examination. Not all pest control companies are experienced in eliminating bedbugs. We recommend locally Florida Pest Control at (850) 432-4103 or Ensec at (850) 474-4000. 
originally posted 07-06-2016