<![CDATA[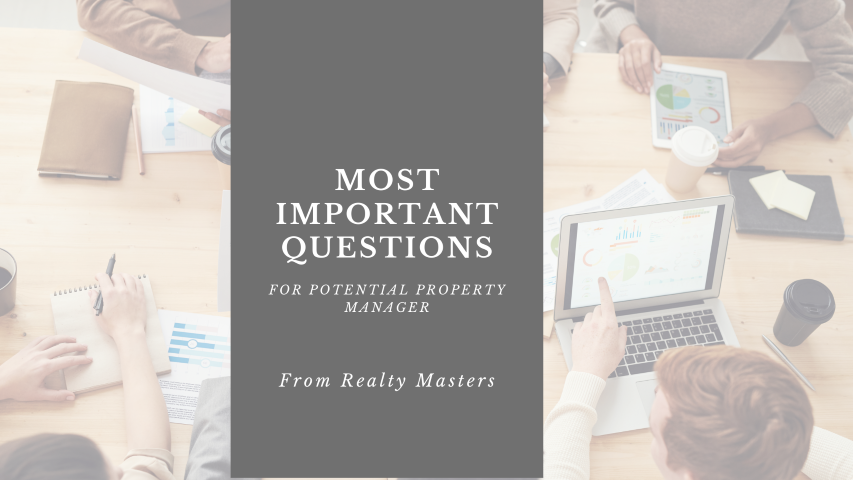 Most Important Questions for Potential Property Manager
1.  Are they a property management company or do they rent houses?
While these agents may be licensed, they may not be familiar with landlord tenant laws, security deposit disbursements, inspections, advertising rentals, and the other aspects of property management that come with experience!  You need a company to manage your property with software, systems, checks and balances, quality control, insurance, and a large inventory of homes to attract qualified renters. Our company rents houses- that's what we do, and we are #1 while doing it! 
2. Are their property managers licensed?
Conversely, some property management companies operate with only one licensed broker and hire all unlicensed assistants to do the management. Our property managers are all licensed Florida sales associates with experience in both real estate and property management.
3. Are they members of NARPM?
The National Association of Residential Property Managers is the premier resource for single-family property managers. We have been members of this organization for two decades. Our broker Nicole St. Aubin has served on the local Board of Directors as a Director, President, and Past President. This membership is an affiliation that allows for property managers to receive law updates, best practices, market trends, and more.
4. Are they members of NAR and do they advertise in the MLS? 
All of our rental properties get advertised in the Pensacola Multiple Listing Service. As vacancy is often an investor's number one expense, we do everything we can to mitigate vacancy time. This means that we advertise your property to 3,000 local realtors, and their clients, and pay a referral fee to real estate agents who bring a qualified renter for your property. This is included in your leasing fee. Many companies skip this step to lease your home without having to compensate other agents. As members of the National Association of Realtors, we receive access to premium tools to help us lease and manage your home better and faster.
5. Do they have a local real estate attorney on their team?
One of the most valuable relationships we have is with our attorneys at Chesser & Barr. Chesser & Barr is a local real estate attorney in Fort Walton Beach who specializes in real estate and property management law. While we don't always like what the attorney says, we know that we are on the right side of the law when we follow their instructions. Liability carries the greatest risk for you as an investor.
6. How long have they been in business?
Realty Masters been in business since 1998. Our broker/owner Pam Keen is a retired Navy Captain and investor with integrity and experience. Realty Masters has an A rating with the Better Business Bureau since 2001. We've been members of the Pensacola Chamber of Commerce for 27 years, and were chosen as Small Business of the Month. As members of a host of local and industry organizations, community and membership matters.
Why is this important? This shows that the company is stable and one you can trust with your funds. Unfortunately, the Pensacola area and property management business in general does have stories of property managers who did not properly account for clients funds. You can rest assured your funds (and your tenants) are being properly cared for. We even have three escrow accounts for security deposits with FDIC limits in mind.
7. Besides the management fees, what additional fees is the management company charging you?
Unfortunately, many property management companies profit off your maintenance and other repairs. There are several ways this is done in the industry. Among the most common are in-house maintenance and maintenance premiums. In-house maintenance companies are companies staffed and run by the property management company. Another common way that management companies profit off maintenance is by hiding a 10-15% maintenance upcharge from every bill that goes to the management company. With rising maintenance expenses, we hate this idea and promise never to charge additional maintenance premiums, maintenance coordination fees, or maintenance surcharges.