<![CDATA[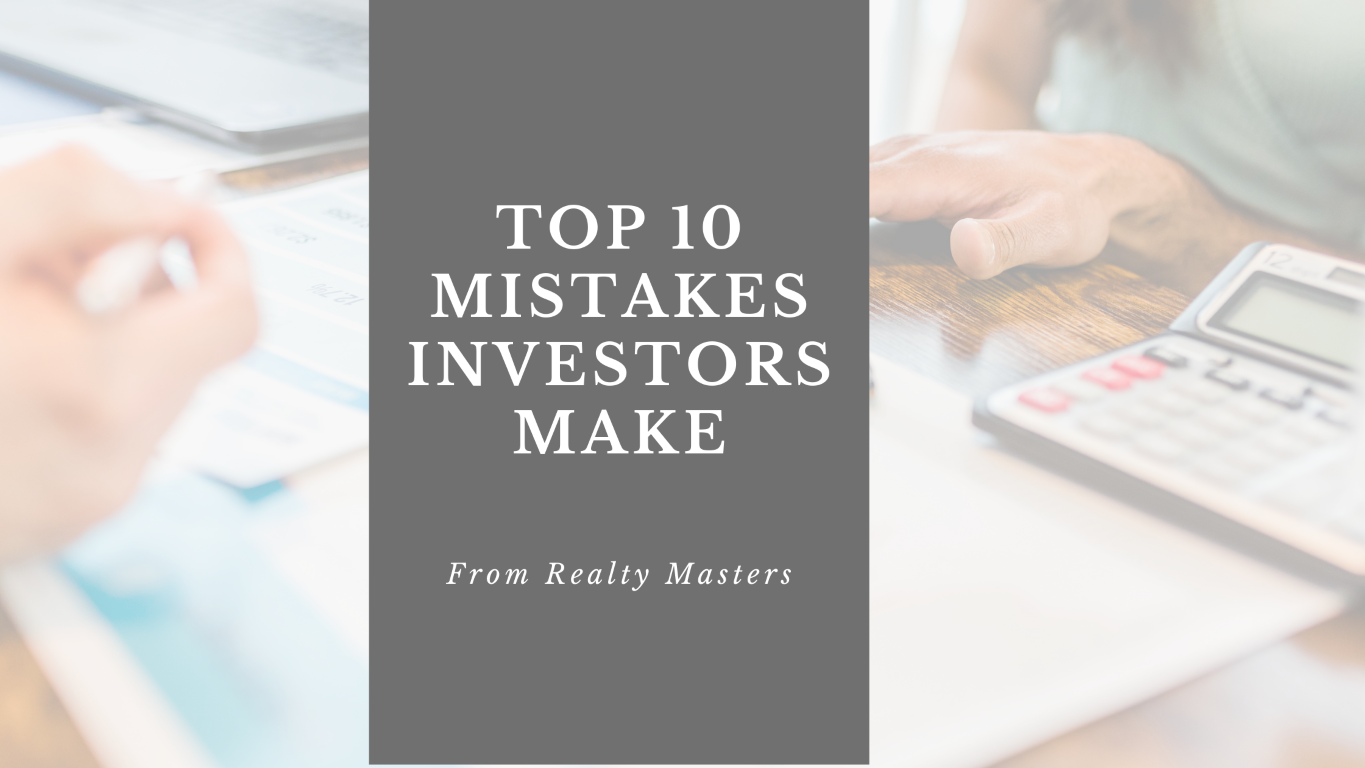 10 Mistakes New Investors Make When Purchasing Pensacola, FL Investment Properties
Investing in property has the potential to be a great source of income. However, you want to be smart about your real estate investment. There are many factors to consider when making this important purchase. Below are the top 10 mistakes that investors make when purchasing a Pensacola investment property. 
1.       Paying Too Much. Use a trusted Pensacola Realtor© that is experienced with investment properties including single family and small multi-family properties. A Realtor© will be able to provide you with information regarding comparable properties in the area, potential rent, and can help guide you with finding a suitable investment property without exceeding your budget.
2.       Skipping the Home Inspection. Surprises are not always fun! Be sure to have a thorough home inspection completed even if the property appears to be in good shape. You want to know what you are taking on and ruling out any costly repairs in the beginning can help save you time and money.
3.       Being Unrealistic About Rent Amounts in the Pensacola Area. When house hunting for your investment property with your Realtor©, be realistic about the potential rent. Asking too much for rent will end up costing you more money in the long run. If you price your rental too high, it is likely to sit on the market for a longer amount of time than it would if it were initially listed at a reasonable rent amount. As vacancy costs can be your largest expense, it is best to price the property to rent as quickly as possible. 
We are seeing investors seeking short-term rental and calculating huge ROI's based off "potential" rents. We caution investors to purchase properties using this formula. Not all properties make a good AirBnB and many factors can derail these plans, such as government regulation, homeowners' associations, and unknown factors like COVID. Thus, we recommend that your purchase make financial sense as a long term rental also, in case it does not work out as a short-term rental.
4.       Not Hiring a Pensacola Property Manager. Once they've purchased a property, some investors underestimate the advantage of securing a property manager to deal with the day to day details of managing a rental. This includes processes such as screening applicants, receiving maintenance requests, performing regular property evaluations, posting notices, and coordinating leases renewals, for example. Having someone to communicate directly with your tenants on your behalf will alleviate a lot of the work that can come along with owning investment properties.
5.       Not Being Familiar with Florida Landlord Tenant Law. Another one of the perks of having a property manager is that we are familiar with Florida Landlord Tenant law. You don't want to rely on Google or Reddit to find answers about situations that may arise throughout your tenant's lease term. Having a trusted Pensacola property management company by your side to help you navigate those waters will help reduce stress. However, it is a great idea to review these laws so you know what to expect if certain situations arise, such as unauthorized occupants or evictions, and what your legal obligations are under the law.
6.       Not Considering Local Environmental Factors. Here in Pensacola, FL, we are susceptible to hurricanes and other severe weather conditions including extreme temperatures. As many properties are located near the water, be aware of flood zones and be prepared should the worst case scenario happen. Flood insurance is always a worthy investment, and you should factor flood insurance in as a yearly expense. Pensacola also has termites in the area and if these go unnoticed and/or untreated, they can cause extensive damage to your property as well as potentially hazardous conditions such as a damaged subfloor. A termite bond can be a wise investment or necessity, especially if you have a wood sided or off grade property. During summer, the temperature and the heat index get extremely high. If you notice the HVAC system is older, plan to replace that in the near future instead of making Band-Aid repairs every few months.
7.   Not Taking Into Consideration the Area That You Are Purchasing In. Be sure to pay attention to the area surrounding the property you are purchasing because prospective tenants certainly will! Are there schools or parks nearby? Is there a road with heavy traffic and many businesses? Does the property meet the real estate value principle of conformity? This is important for future resale. 
Evaluate the condition of the houses or apartments that are nearby and if they're in good or bad condition. Search crime maps for crime statistics to get a good feel of the safety and security offered in the area.. Ask yourself if you would be comfortable living in the area you are considering purchasing in because that will be among the top concerns of your renters. 
8.       Not Considering Expenses for Repairs and Reserves. Be prepared to incur some expenses not only getting the property ready to rent, but also once it's occupied. Plan for routine maintenance expenses and costly capital improvements over time. Tenants are only responsible for damage caused by accident, carelessness, recklessness or abuse and are not responsible for ordinary wear and tear on a property or extensive upkeep. Take into consideration the cost of future expenses for big ticket items such as the roof, plumbing, or major appliances like water heaters and HVAC units. It is important to know the condition of these items before you purchase your investment property and that is why the home inspection comes in handy!
9.       Not Planning for Possible Vacancies. The rental market can be unpredictable at times, as can tenants. Are you prepared if a tenant breaks a lease and moves out early? The sudden loss of rental income can be scary. Properties are renting fast right now, but we recommend factoring in 5% vacancy costs yearly when planning your budget for your investment property to take into account potential vacancy and turnover.
10.   Skimping on Materials and Fixtures. Once you purchase a property, consider making some upgrades. Beware that cheaper is not always better. Lower-grade materials have shorter lifespans and can make you feel as if you are constantly making repairs. Consider higher-grade materials and fixtures. Not only can this help you get a higher rent, it may also attract better quality tenants. For example, if your Pensacola area investment property has the old original pink countertops in the kitchen or bathroom, consider upgrading them with granite. Not only is it much more attractive, it is practically bulletproof and can withstand greater wear and tear. If faucets or doorknobs are brass, try replacing them with nickel-brushed fixtures, is a more inexpensive way to improve the look of the property. Additionally, updating old appliances will appeal to tenants when leasing and save you routine maintenance expenses later.  
Remember to keep these in mind during your search for an investment property in Pensacola. Be realistic, practical, and run realistic numbers to calculate your ROI. If you are entering the Pensacola market as a new investor, it is a good idea to speak with other local investors to pick their brains and discuss their personal experiences. This is a big purchase and you want to make a wise decision.