With brutally hot spring and summer temperatures in Northwest Florida, many of the best Pensacola parks offer splash pads. A splash pad, also known as a water playground, is an outdoor water play area for children with jets and other water features. Think of a huge sprinkler for kids to run and play in with other kids! Most Pensacola splash pads are built in conjunction with your typical playground park that offers the best of both worlds: take your children to play at the park and then cool them down in the splash pad. Or vice versa so they're not wet in the car.
Splash pads are popular for younger children especially because it eliminates the fear of drowning that some parents have when taking their kids to Pensacola Beach as there is typically no standing water in a splash pad. Plus, there is no sand so it makes for easier cleanup. Like a pool, water in a splash pad is often treated with chlorine to reduce germs and increase water quality so keep that in mind.
Here are some of our favorite Pensacola area splash pads and their opening dates for the 2023 season in Santa Rosa and Escambia counties:
Pensacola- Legion Field splash pad opens mid-March and is located at 1301 W Gregory St.
Milton- Carpenter's Park splash pad opens May 15th and is located at 5254 Munson Hwy.
Gulf Breeze- Sunset Children's Park splash pad opens May 30th and is located at 800 Shoreline Dr.
Navarre- Navarre Park splash pad opens May 2nd and is located at 8513 Navarre Pkwy.
Pace- Benny Russell Park splash pad opens May 2nd and is located at 5417 W Spencerfield Rd.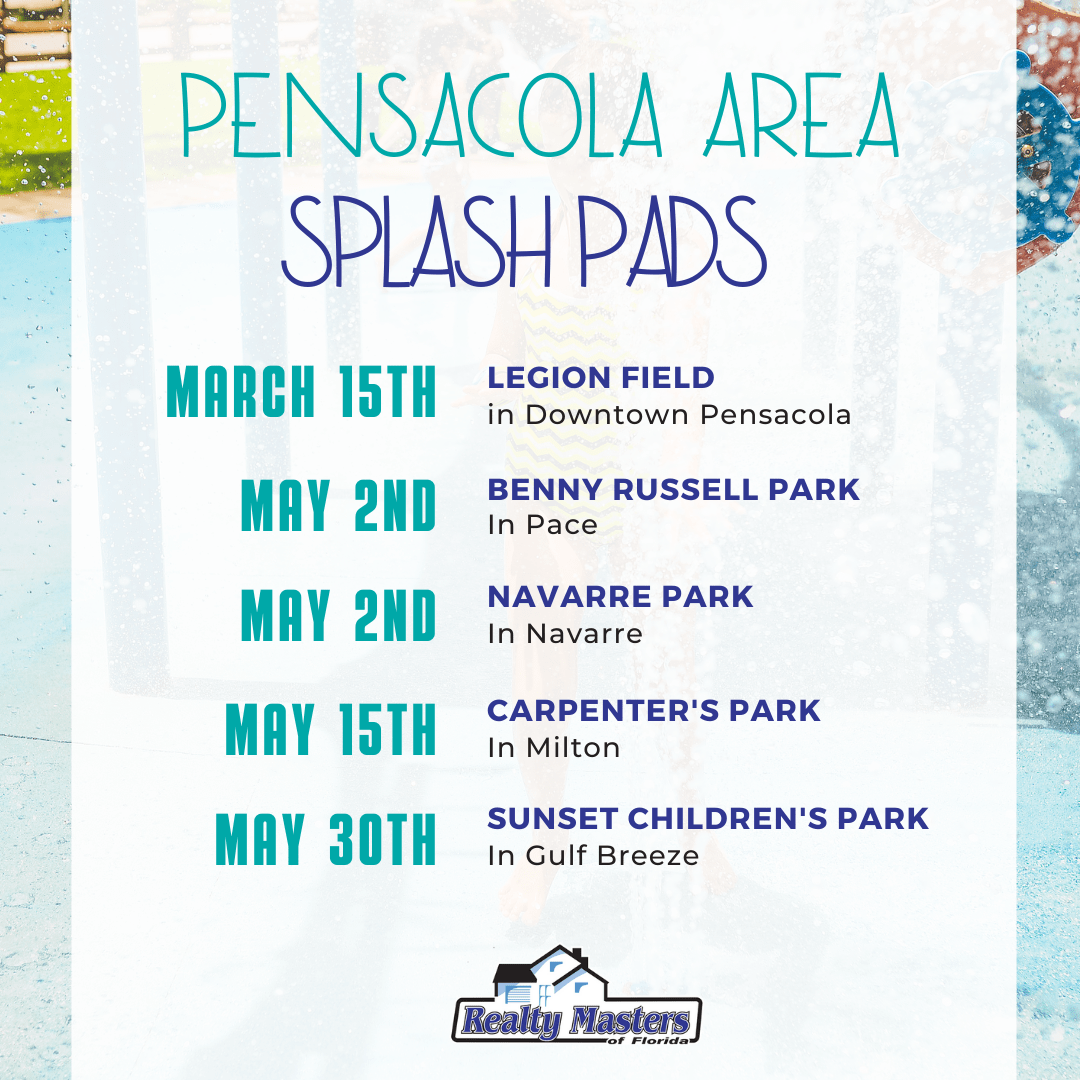 New to splash pads? Here's a few tips from expert moms!
Tips for a good day at the splash pad:
Each Pensacola splash pad has rules posted. Read the rules and follow them for the best experience.
On summer weekends, these venues get busy. Get there when the splash pad opens to grab a good seat. If not, we recommend bringing your own chairs or alternative seating and some form of shade if possible.
Bring snacks but please don't let your children eat in the water play area.
What to wear to a splash pad:
Dress your child in a bathing suit. Keep in mind that many splash pads are designed with a concrete base. If your child is clumsy as is mine, you may consider a long sleeve rash guard or longer swim shorts to protect from skinned knees and elbows. A summer hat is a great addition to your child's splash pad wardrobe. Most importantly, don't forget to use waterproof sunscreen and reapply as needed.
Bring a change of clothes if you want to do both the park and playground or do the playground first and then head on over to the park. There's nothing fun about riding a hot, sandy park slide when you're wet.
Safety tips for splash pads:
Although the water is typically clean in Pensacola area splash pads, consider that children may have toilet accidents while playing in the splash pad. Do not let your children drink the water in the splash pad as this can make your children sick. Don't let your children sit or stand on any of the water jets as this can harm them or others.
Although most Pensacola area splash pads are designed without standing water, always supervise your children closely while playing.