The Florida Department of Law Enforcement maintains a sexual offender and predator search for the state of Florida. Whether you are searching for a Pensacola rental or Pensacola home to buy, we recommend you investigate neighborhoods thoroughly. Conducting a sexual offender search should be part of your house hunting due diligence.
The search is easy and free! You can search by either name, address, college campus, or internet identifier. Our favorite for house hunting is to "neighborhood search" which allows you to enter a Florida address and search by up to a 5 mile radius. The results appear on a map or list (we suggest map) and display a variety of information including:
Name and aliases
A photo
A physical description including any tattoos or other identifying markers
A current address as well as previous addresses and dates of residency
Description of whether address is temporary or permanent
Vehicle identification
A description of the charges against the offender, a timeline of when any offenses occurred, and the jurisdiction in which the case was prosecuted so you can reach out for further details if desired

Search on the FDLE website Florida sex offender registry here!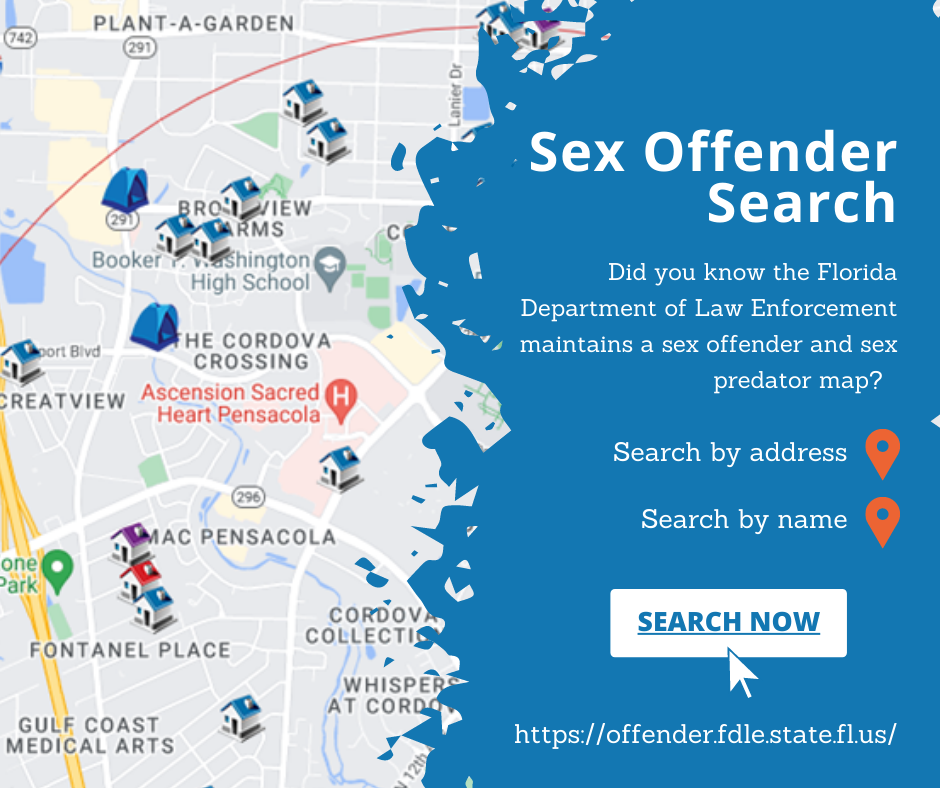 We recommend searching by map on a computer and using the list view on a mobile device. It's a good idea to routinely check the sex offender registry to see if new neighbors have moved in. Alternatively, you can sign up for alerts if an offender moves close to an address you choose on the FDLE's website.
To read more in the Florida Statutes on guidelines for sex offenders, visit Chapter 775.21 The Florida Sexual Predators Act and Chapter 856.022 Loitering or prowling by certain offenders in close proximity to children; penalty.
To look up sex offender registry websites in other states, click here.
For more house hunting tips in Pensacola, check out the following articles on our website:
Let us know how we can help with your Pensacola home search!